There's three left in Fox's "The Next Great American Band" 2007.

Video and pics you'll find nowhere else on the Internet.

And Kaitlyn turns four and she says, no lie, she'll tell anyone...she's four and she knows everything.
Pic of the Day
---

"The Next Great American Band" Finale This Week; Top Three Ready to Win
On Friday, December 14, 2007, the kid band "Light of Doom" was sent packing from the 2007 Fox's "The Next Great American Band" competition.
Indeed I did pray fervently that this band would be put out of its misery.
That being said, those kids should be right proud of having gone on in a national band competition, ending up fourth in the count. While I've moaned about this band's lack of experience, it is quite an accomplishment for such a young group to go so far in this sort of contest. Light of Doom will someday be a band of fame.
The top three bands in this year's contest…Denver and the Mile High Orchestra, Sixwire, and the Clark Brothers, performed three tunes on the night of this review. One tune was given them by the judges, one was assigned by "us", which I assume to mean the producers of the show as it's not clear who US…is. The final song was chosen by each band itself.
Denver and the Mile High Orchestra performed "September" by Earth, Wind and Fire, "Vehicle" by Ides of March, and a tune they wrote titled "The Way You Move Me."
The Clark Brothers sang "Change the World" by Eric Clapton, "Amazed" by Lonestar, and a combo gospel tune: "This Little Light of Mind"/"Faith,Faith,Faith".
Sixwire performed "Reeling in the Years" by Steely Dan, "I'd Really Love to See You Tonight" by England Dan and John Ford Coley, and this band also sang a tune of their own composition-"Good to be Back".
The grand finale of this reality competition is scheduled for this Friday, 12/21/07, just in time for Christmas.
By me any one of these three groups could win this contest and rightfully so. I have doubts about the Denver group as such a big band is an unwieldy sell for the pop market although, hey, I love Brooklyn Bridge. The Clark Brothers are a gospel type band. Not that there's anything wrong with this but again, would a big pop market carry a gospel band?
Sixwire has been and still is my fave band to win this thing.
Below a Remix of the top three bands singing the song assigned them by the judges.
Top Ten Bands in Fox's "The Next Great American Band" Fall 2007
======================
Six Wire
Tres Bien!-sent home 11/30/07
Franklin Bridge-sent home 11/16/07
The Clark Brothers
Light of Doom-sent home 12/14/07
Dot, Dot, Dot-sent home 12/7/07
Cliff Wagner and the old number 7-sent home 11/23/07
The Muggs-sent home 11/9/07
Rocket-sent home-11/9/07
Denver and the Mile high orchestra
Prior Links to Posts for "The Next Great American Band" Fall 2007
======================
The Top Ten Announced
Two sent home
Brooklyn Bridge Sent Home
Cliff Wagoner and the Old Number 7 Sent Home
Top 5, Tres Bien Sent Home
QUEEN! Down to Four
The Top Three
=============
Focus on TV Posts of Fame
Those Wacky TV Chefs.
Includes Rachel Ray and the sexiest chef of them all.
TV News Pundits
including Russert, spitting Matthews and the one I adore.
"Dancing with the Stars"
of 2007, reviews, pics and videos.
American Idol 2007 and The Bachelor.
One night's review with links to all the others.
===============

Four Years Old and She Unabashedly Claims to "Know Everything"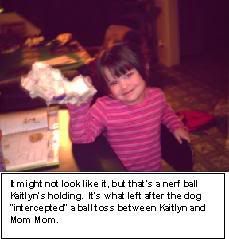 In the picture above, Kaitlyn is holding an object that might be difficult for the average viewer to discern. This is because in her hand Kaitlyn holds what was once a "nerf" football that she and I had been tossing around in Mom-Mom's backyard until the big, galoot dog got it and…well let's just say that Jo-Ann proceeded to methodically tear the foam ball apart because…well I don't know why.
Indeed I must surmise that the Belgian Malinois deemed the foam football object had no business in her yard as she already had two fine balls and the nerf ball was obviously an interloper. I chastised Kaitlyn for not catching the ball as she should have and she pouts and claims that she's just a little kid and she tried.
I heard about Kaitlyn's claim to "know everything" upon arrival at her paternal grandparents' house to celebrate her birthday. "She says she's four years old and now she knows everything," Kaitlyn's other grandma told me. I doubted that such a small child would have the audacity to go claiming such a thing.
At the time of my arrival Kaitlyn was in the bathtub, being washed down due to an episode involving hot chocolate, a jostle, and a result of one birthday girl getting thoroughly doused with icky, sticky liquid chocolate. When Kaitlyn was finally clean and dressed she rushed out of the bathroom to greet me with some kind of weird happy dance and the announcement that she was now four years old and knew everything.
Such an audacious statement does require all adults in the surround to poo-poo the child's assertion along with a statement of the adult's age in question and the comment that even at such an advanced age, the adult doesn't know everything. Thus bringing into serious question the notion that a four-year-old would know everything.
I was, I admit, puzzled at this strange assertion of Kaitlyn's that she knew everything and I pondered just why she thought such a thing. Although I admired her all to hell that she would claim such a thing, God Bless the confidence.
Indeed throughout the three day visit of young Kaitlyn with Mom-Mom she continued to tell anyone in her surround that she was four years old and with a little prompting from me she unhesitatingly added that she also now knew everything.
Well, hey, I thought it was cute. All adults thought it was cute too.
The best I can figure is that Kaitlyn was being a bit tongue-in-cheekish because the child surely knows that she doesn't know everything but hey, with a big smile on her face she asserted it over and over again and the moxie of the statement didn't make her the slightest bit reticent.
There were plenty of opportunities for Grandmother, who would be me, to chastise Kaitlyn over some incident or another with the "gotcha" statement that, heh, Kaitlyn did NOT, in fact, know everything. Like when she put her shoes on the wrong feet and sobbed because something wasn't right.
Obviously a child who knows everything would put her shoes on the correct feet, right?
Kaitlyn just smiled when she got caught not knowing everything and it didn't stop her from constantly repeating the mantra.
I think the child thinks the assertion funny and on some level, it says something about Kaitlyn's sense of humor.
Below, a short video of Kaitlyn's rather lame efforts to blow out the four candles on her birthday cake.
Kind of sad for a kid that knows everything.