They're baaaaaack....

...across the fruited plains they stand in line to sing their songs.

American Idol 2008 began last week and already there's a Delaware fellow very much in play.

We've pics and video you'll find nowhere else on the internet, with remixes of those showing promise and those that make us laugh.

Also, an update on ABC's "Dance Wars" where the contenders must be able to sing AND dance.
Pic of the Day
---

"American Idol" 2008-Delaware Has a Real Contender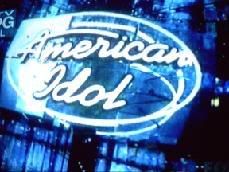 This past week the American Idol (AI) people went to Philadelphia and Dallas. It would seem, while time passes by and we all have fun, that the AI 2008 reality contest is upon us.
Don't believe the scuttlebutt that this year showed a down trend in viewers tuning in on the series. AI WAS the top watched program both nights of the premiere but viewership, so the breathless pundits tell us, was down by twenty million.
First, no mention that the first show, the Philly tryouts, was on the night of the New Hampshire primaries. That alone probably siphoned off twenty million viewers as there are those of us who watch politics from time to time. I taped these first two AI shows and watched them later. I'm thinking quite a few of those alleged twenty million missing viewers did the same thing. Which is not to say we missed the AI 2008 premiere, just that we watched it later.
The format this year is going to be a big different as I understand. Contestants will be able to perform with a musical instrument, mostly a guitar as I envision the change. Although hey, someone could sing and play a trombone I suppose but the effect would not be a good one in my humble opinion.
Below, a montage of some pics from the Philly/Dallas AI visit.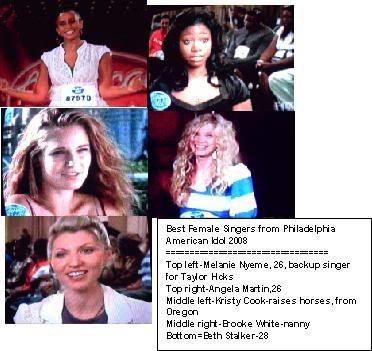 I was enjoying the show when I chanced to hear a contestant tell the judges, still Simon, Randy and Paula as always, that he attended school at "Deltech". My ears perked up.
Deltech is an abbreviated word for "Delaware Technical Institute", a Delaware college about five miles from my house. Sure enough the contender continued on with his personal stats.
"I'm from a small town," he told the judges, "Dover, Delaware" he continued.
Hey, I think Dover is a right big town. It is, ahem, the state's capitol.
But then I live in Delaware, a state so small it could be a city in some states.
His name is Chris Watson and he had one of those personal vignette sort of things that AI does when a contender is considered a real possibility at finalist status. Mighty Deltech itself was featured in the vignette plus personal information on Watson.
Chris is black, 20 years old, and is a senior at Deltech. Then he sang.
I think this might be a perfect year for Chris. The last black male singer to win, the only black male singer I think, was Ruben Stoddard. Chris' genre and voice are miles away from Ruben's. Chris sang a sort of hip-hop rap type of tune but not gangster rap and for sure he sang, not spoke, the lyrics. Chris has a nice voice that can do great voice effects.
My hunch is that Chris Watson, write it down, will be one of the top five, at the least, of the 2008 "American Idol" competition.
Beyond Chris, yes there were a few contenders from the Philly/Dallas tryouts. There were a few hoots as well. One fellow, a Renaldo Lapuz, wore an outfit of white feathers (I'm not making this up) and sang a tune he wrote that I suspect will become a bit of a cult classic. His tune was titled "I Am Your Brother" and already I've heard it played on the Laura Ingraham radio show. All of the judges joined in the merriment as Renaldo sang his tune about brotherhood, solidarity and love of mankind, a kooky, silly song, funny in its drama and meant for mockery.
Well hey, below a couple of video remixes of the contenders from the Philly/Dallas tryouts. I think Renaldo's in one of them.