Lots of thoughts of all kinds.

We've got the Good Guy of the Week and a fine Rant. Comments on Obama's lie of an unecessary speech. Amazing how the stock market keeps dropping every time this guy opens his mouth, huh?

Also, tea parties, Gary Condit lies, fine cupcakes and don't miss the WORST thing you can do with cat litter....ever!
On the Bachelor 09 episode aired 2.23.09, the rejectees returned.

Every damn one of them, except Lauren, were too nice to be true.

Good remix with pics and video you'll find nowhere else on the Internet.
American Idol 09 was pre-empted by a lie of a speech by Barack Obama.

The contest plows on but I must ask, just how in the hell are they narrowing down this field to 12? Because it's not clear at all.

With pics and video you'll find nowhere else on the Internet.
It's time for the annual Fish tongue-in-cheek fashion critique of the Oscars 2009.

We've got categories you've never heard of.

With pics you'll find nowhere else on the Internet.
Pic of the Day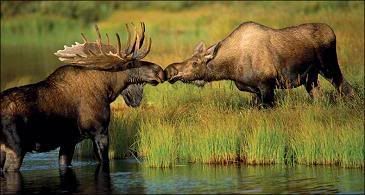 Rant on the Bad Guy of the Week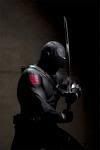 Let's get two things out of the way here. We have a fine, fine rant and it's on this week's Bad Guy of the Week.
I write specifically of Bill Maher.
What a sleazy, hooker-using, pasty-face, smarmy-smiling piece of crap this man is. His value to society is exactly zero, perhaps in the negative.
Last week the annual Hollywood self-important love fest known as The Oscars was held and, which, yes I suffer criticism but I watch always as it is my job to keep my Blogging fingers on the pop culture pulse.
Oscar 09 review HERE.
Bill Maher came upon the stage and gave his usual mean dig at religion and religious folks in this country. Now I understand that obviously, OBVIOUSLY, one who does such a thing knows that criticism will be coming his way.
I, however, will approach the matter from a more logical and pragmatic perspective. With, of course, the usual rant words that show my passion and disdain.

First, so Maher thinks religion is a bunch of nonsense, that virgins giving birth and raising from the dead is the stuff of fiction? Which is not to say that Maher's disdain is held just for Christians, although the man does not have the testicles to go after the REALLY dangerous religion, Islam.
Folks, what harm do religious people bring to society? Most times, except in the case of Islam, which Maher NEVER mocks, religions preach against those actions considered wrong in any social setting. Most religions preach peace, love, forgiveness…hardly bad stuff. So what's it hurt that, according to the most mighty, all-knowing and all-merciful Bill Maher, if religious folks believe in myths?
There are pics everywhere of Maher with a hooker on his arm. Here's a guy evidently with no morals.
So he must mock those who have morals.
For if you wanted to locate an adulterer back in the mid-90's, you would have to have always looked for the people defending Bill Clinton.
Like tends to defend and associate with like. And religious people are definitely NOTHING like Bill Maher.
Stopping For A Grin-EXERCISE
The only reason I would take up walking
is so that I could hear heavy breathing again.
***************************************************
I have to walk early in the morning,before my brain figures out what I'm doing.
***************************************************
joined a health club last year,spent about 400 bucks.
Haven't lost a pound. Apparently you have to go there?
*********************************************************************** Every time I hear the dirty word 'exercise', I wash my mouth out with chocolate.
*********************************************************************** I do have flabby thighs, but fortunately my stomach covers them.
*********************************************************************** The advantage of exercising every day is so when you die, they'll say,
'Well, he looks good doesn't he?'
*********************************************************************** If you are going to try cross-country skiing, start with a small country.
***********************************************************************I know I got a lot of exercise the last few years . just getting over the hill.
*********************************************************************** We all get heavier as we get older, because there's a lot more information in our heads. That's my story and I'm sticking to it.
***********************************************************************
Every time I start thinking too much about how I look, I just find a Happy Hour and by the time I leave, I look just fine.
Quip of the Week
Sometimes my quips, those cute little things that slip out during our normal lives, are "maybe you hadda be there" moments.
Thus the quip and subsequent misunderstanding during my choir practice the other night might be just such a moment. But it left me laughing out loud and unable to sing for almost five minutes.
A choir member, who is also a cantor (one of those fine people who lead chants during mass), was explaining to the choir director why she would not be able to cantor, as scheduled on the published list, on Good Friday. She was, as she had been telling said choir director for several weeks and so many times that we all practically knew her itinerary, going on a trip to Italy during the upcoming holy season.
"I won't be able to cantor on Good Friday," she explained patiently to the choir director, "nor Easter" she inserted quickly lest the choir director remove her from cantoring duties on Good Friday and schedule her for Easter Sunday instead.
Heh. Only the words "Nor Easter" reverberated around the room. Some choir members, not following the sequence of events as closely, wondered how on earth this choir member knew that there would be a Noreaster on Good Friday leaving her unable to sing. Noreasters, for those readers not on the east coast, are vicious rain or snow storms that come in from the Atlantic with a fury, always heading north and to the east and given the moniker of "noreaster" after that ominous path.
Other choir members asked right out loud if this choir member was reading the Farmer's Almanac or something and still other choir members said that late winter/early spring was an unusual time for noreasters at any rate.
As yon reader can see, as is my hope, the misunderstanding blossomed into a grand festival of verbal confusion that had me laughing so hard that tears burned me eyeballs.
Well, maybe you hadda be there.
What Happened to the Great Arrest of the Chandra Levy Murderer
The REAL murderer is pictured below.
And just as soon as the announcement came out that an arrest of Chandra's murderer was imminent, I got on every forum I knew and agreed to give my last dollar if anybody but Condit ever got convicted for the murder of Chandra Levy.
On all the planet, besides the cheering Palestinians and Osama Bin Laden, no one benefited more out of the attacks of 9-11 than Gary Condit.
Absolutely no one can pinpoint Condit's whereabouts on the afternoon Chandra went missing. Why? This was a congress critter. Staff and such keep constant track of these guys. There was a whole passel of incriminating evidence on Condit but hey, he got one free murder. Luckily his constituency kicked him out. His wife was a zombie basketcase, by the way.
I thought maybe a DC prosecutor was going to pull a stunt like that Boulder, Colorado joke did for John Ramsey when she brought in a child pervert back into this country that fizzled to nothing except the pervert was unleashed on our children here in America, we should thank her.
A little money in the palm, prosecutors too can be purchased.
The Joint Session Speech, AKA the Photo-op State of the Union Speech
Actually it wasn't the year for President Obama to give a State of the Union speech but this is a photo-op president and he couldn't bear to pass it by.
I didn't listen but I followed the live thread on FreeRepublic. I can't stand to watch that man and I will be as rude to him as his followers were to George W. Bush for what goes around, comes around.
My husband has lost almost $30K of his 401K because of this clown, so I've earned the right to be bitter, I paid for it with the money he sweated for all his life. And now with him recovering from a brain infection and me from a heart bypass, when we NEED the money the most, Barack Obama decides to rob the treasury, and people like me and husband.
During the speech, he promised everything, that would cost trillions of dollars, then promised to cut the deficit. The average American does not know what the deficit is, especially not an Obama voter. It sounds good but means nothing. The deficit he would be cutting in half was caused by his joke of a treasury-robbing so-called stimulus bill at any rate.
Michelle Obama, who is a lovely and fashionable woman, astounded with a sleeveless dress worn in mid-February. Well hey, I understand hot flashes very well so I'll not criticize.
Daddy Clinton Spanks Obama and His Constant Crisis
God knows I never thought I'd see the day that Bill Clinton would be viewed as the sane one. But ole Bill was right on with his chastisement of President Obama and his constant talking down of the economy. In a recent speech he used the word "crisis" 26 times!
So here's the vid of Clinton's rebuke and hey, Obama did sound a bit more upbeat in his ersatz SOTU speech.
Good Guy of the Week
The libs, as always, get on the soapbox and say something over and over and then, of course, it must be true!
So Bobby Jindal, Governor of Louisiana, gave the GOP rebuttal speech for Obama's photo-op SOTU speech. The lib pundits all lamented how lame Jindal was.
He most certainly was not! Jindal did a fine job.
Understand, not that libs understand this sort of thing, that Jindal didn't have Nancy Pelosi as a jack-in-the-box backdrop jumping up and clapping at every utterance like she did for The Messiah. It was just him, looking very handsome and sober and his words were fine and true.
This is the nation that cast off the scourge of slavery, overcame the Great Depression, prevailed in two World Wars, won the struggle for civil rights, defeated the Soviet menace, and responded with determined courage to the attacks of September 11, 2001.

The American spirit has triumphed over almost every form of adversity known to man — and the American spirit will triumph again.
--Governor Bobby Jindal
Tea Parties Across the Fruited Plains
Many Americans are sick of Obama and I predict there will be many more in the days to come. The Messiah is riding the wave of his recent election but give it time, even the libs will look at their 401K's or notice the stock market dropping. Yes, even the libs won't want to pay for their neighbor's house and the rosy glow of the election will fade to nauseating gray. Hope and Change won't seem so nice soon enough.
There are "tea parties" planned in many cities in protest of Obama and his policies so allow this Blogger to advertise them and provide a link for more information. The Lamestream won't cover them, of course, but with the Internet and Talk Radio maybe we can get the word out.

TO HOST A TEA PARTY
The Great Cat Litter Mistake
It seemed like a good idea at the time.
We have a ramp that leads from our smallish deck to the backyard. We put it there for a little dog that had problems handling the steps. But as we figured, a ramp leading into the house is a good thing, right?
Only in winter that ramp gets slick and one morning I slipped and fell and a)not a good thing for a woman my age and b)we really need a handrail as I decided whilst laying on the ground glad that I didn't fracture a hip or worse.
Until then, dawn broke over my marble head. CAT LITTER!
I would put an empty coffee can filled with cat litter on the deck table and on frosty mornings, boom, I could then throw the stuff on the ramp and walk down with the traction cat litter provides.
Right?
Except most cat litter nowadays is "clumping" stuff and that's when the nightmare began.
The first time I used the cat litter it worked as planned. The litter provided me traction and I safely walked down the ramp.
The following day the weather was not cold but very damp. I walked down the ramp with full confidence and fell on my butt with more force than ever.
Clumping cat litter, it would seem, gets like pure mud when wet.
Further, the cat litter tended to roll down to the bottom of the ramp and covered the ground around the end of the ramp. Leaves and such blew over top and again I slipped and slid and this time I couldn't see where the muddy clumps from hell were.
For several days I climbed down from the deck without use of the ramp at all as the muddy cat litter was still on the deck ramp and this stuff is not easy to get rid of save perhaps a full-force hosing down. Said hose being disconnected as this is winter. I could climb down off of the deck edge easy enough but getting back up required me to hoist my considerable girth upwards but hey, I did it.
The clumping cat litter then dried with the late February winds and I figured I could finally scrape the stuff off and be rid of it forever.
Right?
Only clumping cat litter dries harder than cement and even with the steel-bristled brush of the grill I couldn't get it off the deck ramp. I tried using a broom, heh, thinking the litter would crumble and sweep away. Only the clumps got mangled in the bristles of the broom and one broom into the trash.
Some way, somehow, I am going to get this stuff off of my deck ramp. I had to manually pick it up from around the bottom of the ramp, leaves stuck in and all. Still there's a bunch down there.
Because if it gets wet again, which has happened, once again we have a slippery mud slide.
Consider this a warning and public service from your friendly Blogger whose brainstorms are not always so good.
Some Nostalgia
============================

6 Out of Top 12 Named
Definitely in the Top 12:
Alexis Grace
Danny Gokey
Michael Sarver
Adam Lambert
Kris Allen
Allison Iraheta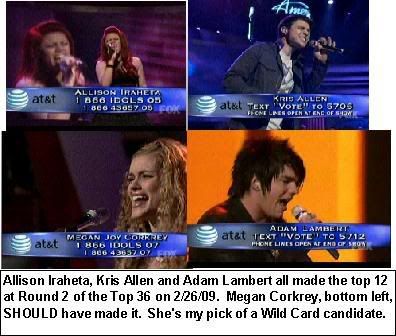 There is one more round in the top 36 and three more contenders from that final group will be voted into the top twelve.
Now what's wrong with this picture?
I was chastised by a Freeper in my last American Idol post that it was wrong to indicate that those not voted into the top three in their round would be "going home".
I advised that no less than Ryan Seacrest himself would say that same thing when doing that faux drama thing he does…drumroll, melodramatic pause…then "Joe, tonight you will be going home."
What's wrong with this picture is that three rounds of 12 with three contenders voted to the top 12 in each…only adds up to NINE in the top twelve. Which makes it a top 9 when you think about it.
The other three slots will be filled via so-called "wildcard" slots. There's even a link to "wildcard" photos in the official American Idol site but as of now it goes nowhere, obviously.
It's not at all clear just who chooses the wildcard contenders but my Freeper scolder was right. The ones who were not one of the top three are not, necessarily, "going home".
They could, perhaps by being voted fourth in each of the three top 36 rounds or by appointment by the judges, go on to be in the top 12 but it's not clear just how or on what criteria. At least not to me.
I think the contenders voted in so far are good ones. Although there was one contender, pictured above and included in the remix below, who I thought for sure would get the nod. Megan Corkrey had a tattooed arm, was absolutely beautiful, cool, hip, young and happening. Kris Allen, who I considered lackluster, beat her out for one of the top three spots.
Finally, Brooke White, a contender from last year, played her newest song. It was a great listen and suited her voice and style perfectly.
A montage of the top three in round 2 below, with a couple of surprises along with my wise commentary below.