The "Celebrity Apprentice" aired on 2/7/08 was very entertaining.

Although someone tell me the connection between Vera Wang and a mattress. Keep it clean.

Also, fashion, comments, pics and video of the Grammy Awards 2008. Somebody tell me, what the hell is an Amy Winehouse?

TIDBITS

Romance Trivia
Coffee Break Romance
It's reported that more than 10,000 marriages a year now are directly traceable to romances which begin during coffee breaks.

Engagement Lengths
The average engagement lasts 6 months.

First Love
Two out of five marry their first love.

Wearing a Wedding Ring
The reason that the engagement ring and wedding band is worn on the fourth finger of the left hand is because the ancient Egyptians thought that the "vein of love" ran from this finger directly to the heart.

Go Ahead and Kiss
A team of medical experts in Virginia contends that you're more likely
to catch the common cold virus by shaking hands than by kissing.

Having Sex?
According to a survey, the second most popular reason for having sex is to produce a baby.

Strange But True
In Pennsylvania, Ministers are forbidden from performing marriages when either the bride or groom is drunk.

Median Age for Marriage
In 1970, brides were on average 20.8 years old when they married, while grooms were 23.2. Americans are now marrying later in life. In the year 2000, brides were on average 25.1 with their grooms averaging 26.8.

Morning Kissing
Studies indicate that a man who kisses his wife good-bye when he leaves for work every morning averages a higher income than those who don't. Husbands who exercise the rituals of affection tend to be more painstaking, more stable, more methodical, thus, higher earners. Studies also show that men who kiss their wives before leaving in the morning live 5 years longer than those who don't.

Oldest Bride
Minnie Munro became the world's oldest bride when she married Dudley Reid at the age of 102 on May 31, 1991. Reid, the groom, was 83 years old.

Oldest Groom
Harry Stevens was 103 when he married 84 year old Thelma Lucas at the Caravilla Retirement Home in Wisconsin on December 3, 1984.

Phone Proposals




6% of men proposed to their girlfriends over the phone.

Romance Novels
Romance Novels are more popular than ever. 53% of all mass market paperback
books sold in this country are Romances. Romance novels earn more money in the
USA yearly than baseball! So, what's the national pastime?

Sex Manuals
The oldest sex manuals were published in China 5,000 years ago.

The Longest Engagement
Sixty-seven years, according to the Guinness Book of World Records.
The happy couple finally wed at age 82!


"Celebrity Apprentice 2008"-Vera Wang and the Mattress
2/7/08-celeb nite
The "Celebrity Apprentice" 08 episode which aired 2/7/08 was the one I most enjoyed so far this year. So much of this bastardization of the original "Apprentice" series is staged, and obviously staged.
I understand that The Donald must make the show a big advertising hype for some product or another but add to this the element of celebrities vying for attention and money,
allegedly
for a personal charity, and it gets to be almost one big commercial.
The challenge on 2/7/08 was an intriguing one and the show itself was great. But somebody has to explain to me what the hell Vera Wang, a designer beloved by the Hollywood crowd, has to do with mattresses.
Because that was the task the celebrated apprentices were charged with on that evening. Each team was to create a "living" display featuring, well Vera Wang and Serta mattresses.
Now about Omarosa. I wasn't following this series the year when Omarosa was attracting the attention of the world. I like her, however, and can understand why The Donald brought her back. She's biting, mean, nasty and most times, right. I also think having Omarosa on a so-called "celebrity" apprentice is The Donald's way of reliving the hayday of his series.
Stephen Baldwin, it turned out, can't work with Piers Morgan. This is an obviously staged animosity. Piers is a cute little red-headed guy with a fetching English accent. Although Omarosa, true to her part, did pour wine on Piers for some silly reason or another. Since Baldwin feels so strongly about Piers, heh, he went to The Donald and said he wanted to quit such was his dislike of Piers Morgan.
The Donald then moved Baldwin over to the girls' team-Empresario. Trump's had to add one of the male team-Hydra, over to that team for three weeks in a row and each week it's been a different excuse. Last week it was Baldwin's alleged dislike of Piers Morgan.
Hydra's team came up with some sort of Cleopatra scenario for their living display. Cleopatra's clothes, we must conclude, were designed by Vera Wang.
The Empresario team came up with a wedding suite sort of layout, with Stephen Baldwin as a groom carrying his bride into the bedroom. The bridge wore a wedding gown designed by Wang.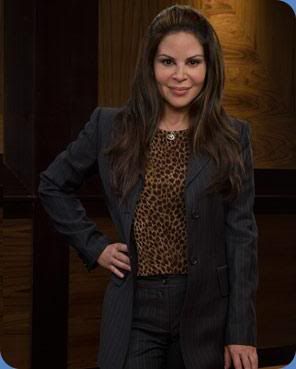 Vera chose Hydra's Cleopatra theme and someone on Empresario had to be fired.
The Donald finally got his chance to fire Nely Galen. Several of the contenders said that Trump's been wanting to do this since the series' inception.
Which is just as well as the woman's lips were seriously worrying me.
"Celebrity Apprentice" 2008 Contenders
======================
Carol Alt-model/actress
Jennie Finch-olympic medalist softball
sent home 1/24/08
Gene Simmons from Kiss-
sent home 1/17/08
Lennox Lewis-boxer
Marilu Henner-actress
Nadia Comaneci-olympic star gymnast-
sent home 1/10/08
Nely Galen-Latina TV producer-
sent home 2/7/08
Omaroasa-former apprentice
Piers Morgan-Americas Got Talent
Stephen Baldwin-actor of Baldwin family
Tiffany Fallon-playmate of year-
SENT HOME PREMIERE NIGHT 1/3/08
Tito Ortez
Trace Adkins-country star
Vincent Pastore-star of sopranos-
sent home for Croc challenge 1/28/08
Prior Links to Posts for "Celebrity Apprentice" 2008
======================
Premiere Show
The Dog Challenge; Nadia Gets Fired
The Kodak Challenge…KISS Him Goodbye
Hydra Loses the Broadway Challenge; Finch Sent Home
Vinnie Pastore Goes Home
Nely Galen Sent Home
The Grammys 2008…Fashion, Song and…What Is An Amy Winehouse?
Some notes:
First off, how stupid is it to NOT introduce the people about to sing? For on several occasions during the 50th annual Grammy awards-2008, I listened to entire songs and had no idea who was singing. Beginning with Alicia Keyes, who sang an entire fantasy arrangement with a photoshopped Frank Sinatra as I wondered who she was. Finally she won an award and her name was mentioned but…well I guess the writers are still stiff and out of practice from their strike.
Tom Hanks looked like he was in pain during his entire segment as presenter.
Kanye West is an asshole, let the record show. Yes I know he lost his mother recently but he got to perform a sweet little vignette in honor of his mother. So why did he INSIST…INSIST I tell you, on going on and on about his beloved mother when he received his Grammy? Remembering please that he had already been going on and on to the point where the background reminder music began, and this was before he began talking about his mother.
The world revolves around Kanye West, just ask him.
Finally, what the hell is an Amy Winehouse and seriously folks, why is all of Hollyweird bowing to him/her, an individual with little talent and no looks?
Come on! A song about refusing rehab…kinda cute but hardly a Grammy winner. A singer with skinny, hairy male legs and no tits?
Obviously this is a transsexual and if the awards were for "best performance by a transsexual", then I'd be cheering for ole Amy myself.
Anyway, that crowd stood and cheered for this thing's pathetic performance as if Winehouse were a grand opera singer. Sheesh.
Below, montages of pics to commemorate the 50th Grammy awards and below this, a remix of the show, featuring…AMY WINEHOUSE. Click just to see this joke.