Pic of Day
To all Readers of this Blog, Merry Christmas and Happy New Year! See you next year!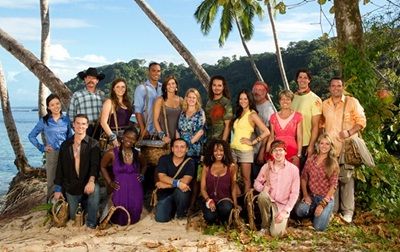 Yes I did quite enjoy
Survivor Philippines
.
The winner, as most yon readers probably know, was Denise. I am not surprised a bit. Denise played a wonderful game, she was diplomatic, she was tenacious, she was a real politician.
Not that it was easy watching the finale of Survivor Philippines. Goodness there was the actual episode. Following up was the final Tribal Council. Then we had the "AFTER SURVIVOR" show. Goodness if anyone tried to DVR all that they'd have been hopelessly out of sync. If it wasn't the football games, it was the President and his speech.
I did the wise and just tuned in live.
I liked Lisa, goodness, and Skupin also played a good game. But Denise ran circles around everybody and, indeed, Denise one handily.
I'm still trying to understand how this show works, indeed how most of these reality shows like this work. "Big Brother" and "Bachelor Pad" all work under the same premise: the co-contenders vote out the losers and the last one standing wins.
Once you get down toward the end the eliminations make sense. Throwing Malcolm out, for example, at the last tribal council, made a lot of sense. For it was Malcolm who really played the best game. He survived, along with Denise, down to the last two of his tribe. He won many immunity rewards. He was a pleasant fellow and had he been one of the final two I think he would have one.
It isn't always clear to me how the contenders hone in on a co-contender from early to mid-season. At least to me it's not clear. Perhaps other more seasoned viewers catch on right away.
I do know that often, right at the beginning, there's usually a few co-contenders who are not so easy to live with.
In Survivor Philippines I did not understand how Abi stayed in there so long and for sure I don't know why they kicked out Carter when they did. Carter should have been around longer than Malcolm as I figured.
Whatever the case, Survivor Philippines unfolded, much like the universe, as it should.
Great reality competitive series, the granddaddy of them all.
======================================================
Below all posts on this Blog on this subject:
Judging by the First Episode of Survivor 2012-We've Got a Winner
Survivor Philippines: Child Stars and Just Plain Children Dot This Survivor Series
Survivor Philippines Heads to Finale. Predictions, Observations, Snark
Survivor Philippines Plows On. $320 For a Plate of Pancakes?
Survivor Airs Wednesday Nights, CBS, at 8pm
Click here
to go to this Blog's main menu and see what other TV series we're covering.