You've been hearing that he had consensual sex with a 15 year old when he was only 17. Yes, ten years was a bit much for that "crime" but in this True Crime post we learn that Generlo Wilson's night of passion wasn't nearly as ordinary as the media's made it out to be.

Also, we've got another female teacher rapist. Whether or not these sex offenders go to jail depends on how "hot" they are.

Plus Lisa Montgomery death penalty very likely, a sad story, a beautiful pics, of a canine hero who gave his life for his handler and a barmaid who can crush beer cans with her breasts.
| | |
| --- | --- |
| | Quote of the Day |

Dakota...May This Hero Dog Rest In Peace
My own fine dog, a Belgian Malinois, got a little extra loving and attention from me the day I learned of the death of Dakota.
From the Columbian.com:
BRUSH PRAIRIE - The tracking dog Dakota was shot and killed Tuesday as teams of SWAT officers closed in on an armed convicted murderer - who allegedly had told an acquaintance he wanted to "kill a cop."





Dakota, a 5-year-old German shepherd owned by the Vancouver Police Department, was shot in the head and killed about 3 1/2 hours after police were called to the Lewis & Clark Railway Co. tracks just east of Northeast Caples Road in Brush Prairie.
Dakota's murderer, a fine fellow, 38-year-old Ronald Chenette, had been convicted of a murder in 1987. One must wonder why this guy is running around now.
Police had received a call that Chenette was out with a gun and threatening to kill. A swat team and officers of the local Washington state police department surrounded the woods where Chenette was hiding. Dakota was released to track Chenette.
Dakota did his police canine job as he'd been trained to do. Evidently Dakota had found Chenette and was attacking him when Chenette fired a bullet into the dog's head, killing him instantly.
The dog's handler found his beloved dog and carried him from the woods.
Chenette is up for the "three strikes and you're out" law and this is his third strike.
Genarlow Wilson Not the Angel the Media Would Have You Believe
Genarlow Wilson was 17 when he and some friends decided to have a drunken orgy of a New Year's Eve party. He and a female , hardly his "girlfriend" as the media would have you believe, engaged in oral sex. The female was 15, not of legal age at the time while Wilson, at age 17, was of legal age. So Wilson was guilty of a sexual assault crime.
Now how did the police know that Wilson and this woman had oral sex that fateful night? Could it be because the fine Genarlow VIDEOTAPED it all?
Further, this same fine Mr. Wilson had very questionable sex, again that same night this wonderful example of manhood, with another female. Again, the fine Wilson was so proud of his sexual exploits that he videotaped this escapade. Only this female claimed she had been drugged to the point of non-consent and Wilson went on trial before a jury.
The jury studied Wilson's proud videotapes, this hero of Black America, and acquitted Wilson of rape charges although the jury did think the female making the rape charge appeared to be heavily sedated, the jury also found there was reasonable doubt about her state of mind.
Wilson was then charged with sexual assault because this very, very fine and proud man also had on videotape this 15 year old giving him oral sex. Again, the girl doing the deed appeared to be doing it willingly but as it would turn out Wilson was guilty of a crime. 16 years old was the age of consent at the time; the girl was underage to give consent while Wilson was of an age of sexual consent. There was only two years age difference between the two and at the time there was a ten year mandatory sentence for such crimes.
So the legislature of Georgia overturned that mandatory sentence although it wasn't retroactive. Still Wilson had already served two and half years for his night of New Year's debauchery and most fair folks consider this quite enough. Georgia's supreme court overturned Wilson's sentence and he was released.
Now understand that a ten year sentence for a 17 year old engaging in consensual oral sex with a 15 year old is certainly not worth ten years in jail and for sure that was never the intent of the law. The ten year mandatory sentence was likely intended for when 35 year old men decide to seduce a 14 year old love-struck adolescent.
However, to listen to the media out and hyping the wonderful Genarlow as a paragon of youthful innocence is to push the envelope a bit. Here's a 17 year old high school kid, an athlete with a promising future, and he has to get all involved in a drug and alcohol orgy and videotape his fine self having sex with females whose ability to consent is highly in doubt.
Hardly the abused angel the media would have you believe. Yes he should be released from jail and most folks think this is fair. Now let's see if Wilson has learned anything from this whole episode.
From ESPN.com:
FORSYTH, Ga. -- A former high school football star given 10 years in prison for having consensual oral sex with another teenager was freed Friday by Georgia's highest court, which ruled that his sentence amounted to cruel and unusual punishment.
Just In Time for Halloween...Vampire Sex
46 year old Robert McDaniel is an amenable fellow. So when his 24 year old lover suggested some sex play that would have her tying him up, good ole Robert agreed.
From Google.com:
MESA, Ariz. (AP) - A woman who stabbed her tied-up lover so she could drink his blood has been sentenced to 10 years in prison. Tiffany Sutton told Maricopa County Superior Court Judge David Udall that she was sorry for the incident and said she never meant to hurt anyone, but received the stiff sentence anyway after he called the crime especially heinous.
Yes the female young enough to be his daughter turned out to be a bit of a kook and refused to release McDaniel when he so requested.
Instead the fine Tiffany Sutton stabbed the tied and bound McDaniel several times before he was able to get free. Turns out that Tiffany thought she was a vampire and wanted to drink McDaniel's blood.
Tiffany got ten years for this little bit of fun. McDaniel should avoid Goth looking young girls in the future.
I'm just sayin' ...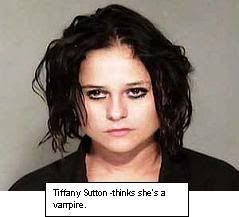 What's With These Female Teachers?
First, a 29 year old woman and a 17 year old boy...consider. Forget for a moment that the woman is the boy's teacher, just think about the dynamic of a very adult woman choosing such a young kid as a lover.
Yeah I know all about Mary Kay Letourneau but she was a nut too.
Now how about this woman is the kid's teacher? How about this...how about those mighty teachers' unions demand that before a teaching certificate is granted that all would-be teachers must sign a statement that they understand that as teachers of the youth that they have NO right to use their students for their sexual gratification? Make them sign the thing just in case they are too stupid to get it.
Scuttlebutt has it that this boy went about bragging about his affair to all of his friends so why is this a surprise? Did this 29 year old woman deemed worthy of teaching the young not think this would happen? Does she think a human sperm machine adolescent male of 17 tender years would consider sleeping with his pretty teacher a tender romance worthy of respect and a sweet silence?
I know it's a snort when a young adolescent manages to luck into a sexual relationship with a pretty teacher, that this is the stuff of a young male's wet dreams across the land. But I don't know of many parents who look kindly upon teachers who would allow their adolescent sons to engage in such behavior.
It just ain't right and yet we hear of this sort of thing entirely too often.
From Deseretnews:
A Hurricane High School teacher has been arrested on investigation of rape.
Hurricane police said Cris Lynn Morris, 29, of Washington, Washington County, was booked into the Purgatory Jail for investigation of five counts of first-degree felony rape. Police allege it stems from a sexual relationship she had with a male student.





"Under Utah law, a juvenile student is incapable of consenting to sexual relations with a teacher," the Hurricane Police Department said in a statement released late Wednesday afternoon. "Under the law, sexual intercourse without legal consent constitutes rape
David Copperfield Wishes He Could REALLY Disappear
New information has been coming out all this week about that David Copperfield alleged rape. And folks, it doesn't look good for the magic Copperfield.
From Foxnews.com:
During his show, Copperfield goes into the audience and chooses women to come on stage. If he likes a woman, he'll use code words with assistants like "mama" and "secrecy," TMZ reported.
Most of the information being reported is evidently from leaks and I must work from only my memory for so much of it I heard on the cable news. As reported above, it seems that Copperfield has some sort of system for choosing females from his audience. Not so much odd about that, this method being fairly common. In fact, I heard that Rush Limbaugh used to pick out females that allured him in the same manner.
It was reported that the complainant was held for TWO days against her will, was beaten and repeatedly raped, then sent home after being warned to keep her mouth shut.
The alleged victim did report to a hospital in the states where pictures of her injuries were taken and a rape exam was made.
Folks, this doesn't look like an idle charge here. I've also heard there are other women willing to talk.
Of course Copperfield is innocent until proven guilty but I'm going on a hunch here that a woman would not be making such accusations against a powerful man unless there was evidence to back it up.
Could Copperfield have offered the woman money to shut up and it's all on tape?
Just a thought.
Lovely Nurse Injects Healthy Baby With Insulin
She was jealous because she'd lost her own child due to complications from chicken pox when the baby was 16 months old. Since she was a nurse she had access to insulin. She injected the child with insulin after befriending the mother and offering to dress the child before a morning out with the baby's mother.
From Timesonline:
A mother injected a friend's four-month-old baby with a huge overdose of insulin because she was jealous that she had a healthy daughter, a court heard yesterday.

Veronica Duncan, 41, an intensive care nurse whose own child had died just months earlier, engineered a situation in which she was alone with the baby after inviting the child's mother out for coffee. She then injected her repeatedly with the hormone. Later she turned up at the hospital where the child was fighting for her life.
This nurse is currently in a psychiatric hospital where one must suppose she belongs. The insulin-injected baby recovered but it's questionable if the child will have long-term effects from brain damage.
Another Woman Burned and Dumped
Only Rose Avina lived. In fact, Avina managed to walk a mile from where her tormentor left her, bound at the hands and feet and set afire, to die. She had 3rd degree burns over much of her body and the plastic ties used to bind her hands were burnt into her flesh.
From the Fresno Bee:
Investigators believe the suspects in the case tied Avina at her hands and feet, placed a bag over her head and sometime early Wednesday morning drove her to a location on South Avenue in the Ballico area, between Pepper Street and Ballico Avenue.





The suspects then placed Avina inside an abandoned boat near a burn pile, doused her with a flammable liquid and set her on fire.
Burning females is increasingly an act taken by fine males who want to remove "evidence" of a rape. Said evidence often INSIDE of their victim and filled with incriminating DNA. The solution, so the fine rapists figure, is to just burn the woman, dead or alive, and thus burn up the evidence.
I am thinking that any male who does this to a woman after a rape should get some sort of mandatory life sentence. Because this is a horrific crime which primarily only affects females.
Avina has a very long criminal record herself, it would turn out, and so far investigators are keeping mum about her condition although she has survived.
Another Wrinkle in the Maddie McCann Case
So okay, now we are to understand that DNA from little Madeleine McCann was found at the home of the fellow first suspected with her disappearance?
From the Dailymail.uk.com:
Detectives searching for Madeleine McCann have told a Portuguese newspaper she WAS at the home of official suspect Robert Murat.

Officers claim traces of the missing four-year-old's hair and body fluids were found in at the Briton's villa.

The new allegations come as Mr Murat was due to be removed from the suspects' list after detectives failed to provide enough evidence to charge him.

Now this is confusing. If at all true.
The allegations that DNA matching Maddie was found at Murat's house is being reported in the link above based on a report from a Portuguese newspaper, and THIS newspaper's report was based on unnamed police sources. In other words nobody's going on record with this information. Murat is going to be removed from the cloud of suspicion per Portuguese law which requires that unless an indictment is brought against a suspect before six months has passed since the initial "arrest" than that person will be cleared and can no longer be charged.
Suppose it was the McCanns who gave that tidbit about DNA at Murat's house? Because come on, if investigators found even one molecule of Maddie's DNA at Murat's home he should have been arrested right away! There's no excuse for any sort of DNA of Madeleine's to have been at this fellow's house!
Something about this story does not seem right.
FOCUS ON MADDIE MCCANN
===================
Her family was on holiday at an exclusive Portuguese resort. Madeleine McCann's parents were both physicians and in addition, they have two twins younger than Madeleine.
While Maddie's parents dined out at a nearby resort restaurant, with children believed to be soundly asleep, Madeleine McCann somehow disappeared. She was discovered missing upon a routine check of the McCann suite by her parents.
It took a few months but eventually the suspicion that Madeleine's parents might have had something to do with her disappearance was leaked by both the Portuguese and British police.
First report on this Blog of the Maddie McCann case
More info on Maddie's disappearance with my fine analysis
Announcement that McCanns might be responsible for Maddie's death
McCanns refuse to answer questions about Madeleine's disappearance
With little info known, my analysis of the McCann case. Or did the maid do it?
Maddie's Mother Claims Her Small Boobs Are to Blame.
Woman Files False Rape Charge
I've often said, I'll admit it, that false rape charges were rare. First, rape examinations and interviews are unpleasant affairs and a woman who hadn't been so assaulted would likely not last through all the police detail.
From Knoxnews.com:
MARYVILLE - A woman who told authorities she was raped Sunday night near a strip mall on U.S. Highway 411South has admitted the story is bogus and said she fabricated the attack account because she was depressed and wanted attention.





Maryville Police Chief Tony Crisp announced the developments at a press briefing Wednesday afternoon and added that the woman admitted that her injuries - several lacerations and a broken nose - were intentionally self-inflicted.
The story above is sad beyond anything I can imagine. To be so depressed and desire attention so much as to file a false rape charge…this woman needs serious psychiatric help.
Only now she's in legal trouble. Such fake charges take police manpower away from real crimes and goodness let us not forget that fake rape charge at Durham and the lovely Mike Nifong who went along.
An Amish Crime Spree?
Overturned buggies? Smashed windows?
From Buffalo News.com:
LEON … Five Amish teens have been arrested after being accused of smashing windows, flipping buggies over and tearing down mailboxes at two other Amish homes earlier this month, Cattaraugus County sheriff's officials said today.

The five men, all 18 or 19, worked together and caused more than $1,200 damage at one home and more than $500 at the other. Both homes are on West Road in the Town of Leon.
It's kind of a joke on some public forums I frequent on the Internet that when an IED explodes or any other evil act so obviously an Islamofacist thing someone will post "another Amish crime?" The point being that there is generally only one culture/religion involved in certain crimes such as suicide bombings. But rather than be politically incorrect, a commenter will point to a religion/culture generally known for its peacefulness. Which is the Amish, most certainly.
And yet they went a little wild recently and turned over buggies and caused other mayhem.
Let the record show that at times even the Amish go a little nuts.
Jury Recommends Death Penalty for Lisa Montgomery
Not that this is any surprise to anyone. Lisa Montgomery viciously killed a pregnant woman and cut her unborn baby from her womb. She left Bobbi Jo Stinnet for dead and ran off with the baby which she later claimed was her own.
From the Kansas City.com:
Jurors unanimously agreed today that Lisa Montgomery should be put to death for killing Bobbie Jo Stinnett and stealing her unborn daughter nearly three years ago.
Speculation was rampant as to whether the death penalty would be meted to Montgomery for her crime but one as to ask that if no death penalty was given for this crime than there shouldn't even be a death penalty. Bobbi Jo Stinnet should be alive and enjoying her healthy baby, watching her grow and providing the child with a biological mother's love.
A formal sentence hearing will be held at a later date when Montgomery will be formally sentenced. Without a death penalty recommendation from the jury Montgomery could only be sentenced to life behind bars.
FOCUS ON:
Lisa Montgomery-Killed a Mother-to-Be and Stole Her Baby from Her Womb
=====================
She met her prey at a meeting for dog breed aficionados. Bobbie Jo Stinnet was 8 months pregnant. She was strangled and her baby was taken from her womb.
Because for sure this most unusual crime, replete with twists, turns, curves and bends involving dog shows, internet chat boards, strange cousins, dead dogs, and fake pregnancies, will be the true crime trial of the decade.
Because if Lisa Montgomery is not crazy then she certainly behaved as if she were.
This post begins
the story of Bobbie Jo Stinnet and Lisa Montgomery.
Right after this crime which shook the nation, this Blog became a focal point of discussion about this amazing case. At some point Bobbie Jo's AND Lisa Montgomery's husband actually posted to this blog. This link to a post with many intriguing
comments about this crime.
We continue on HERE following this case.
In Late September 2007 the Montgomery case goes to trial.
Intriguing updates here.
More Montgomery trial updates HERE.
Defense Claims Lisa's Childhood Sexual Abuse Made Her Insane.
================
Here's a "Crime" Just Rife for Laughs
Luana won't go to jail for her "crime" of crushing beer cans with her breasts but like most communities in a decent society, there are rules governing exposure and such. Luana and a colleague accused of engaging in this sort of x-rated fun will both be fined per the licensing laws of the town in which Luana works.
From Sunday.UK:
An Australian barmaid has been fined for crushing beer cans between her bare breasts while an off-duty colleague has been fined for hanging spoons from her friend's nipples.





Luana De Faveri, 31, pleaded guilty in the local magistrate's court to twice exposing her breasts to patrons at the Premier Hotel in Pinjarra, south of the state capital, Perth.
This sort of thing does bring out the winking fun in us, does it not?
I came across the cute cartoon below and I couldn't resist.
And, of course, how could I refuse this video titled "Tough Titties"? Warning, watch at your own x-rated expense.
Tough Titties
=============================