It's the weekly update for "Dancing With the Stars" and "The Bachelor" of Fall 2007 for the episodes aired 11/5/07.

Both of these shows are closing in on winners.

With pics and video you'll find nowhere else on the Internet.
Web Site Worth the Visit
Are You Smarter Than a Fifth Grader?
...Well...are you?





CLICK HERE


Finally One of the Old Gals Sent Home
The problem with this series is that the audience grows fond of a dancer or two and when the time comes to send them home, well the beloved celebrity dancer is kept around far longer than deserved.
Hey, it's human nature and Americans…well Americans do what Americans do. Which is being like a herd of cats.
We've got two "older" ladies this year who are, let's be nice, doing one hell of a job. Marie Osmond is in her 40's and I could swear Jane Seymour is in her 50's somewhere. Osmond fainted on stage and Seymour lost her mother early in the competition and recently suffered from some kind of food poisoning.
Sheesh. So the kind Americans across the fruited plain, well after all that how on earth could we just send these fine ladies packing?
Although, again, let it be understood that both Marie and Jane do, or did, a fine job, way better than this old lady could do even just dancing in my kitchen whilst driving the cats batty.
But this is, heh, a contest and the winner has to be really, really good. Jane Seymour, who was sent home on the evening of 11/6/07, is in no way a better dancer than Mel B the Spice Girl. She's not better than Jennie Garth, as a matter of fact. She isn't better than Sabrina of the Cheetah girls who got sent home last week, probably a victim of America's kindness to the old ladies of this year's "Dancing With the Stars".
So a few notes on the episode aired on Monday, 11/5/07. It was a night of TWO dances and the competition is now getting tough.
Helio began with a tango and he looked dashing. Helio always looks dashing but hey, I could swear his partner Julianne made a comment about Helio's lack of great intelligence. "Helio doesn't quite pick up things as well as many people in the competition," and I quote. Well what the heck does this mean? Helio and his partner performed a samba for their second dance. The samba is the national dance of Helio's native Brazil. I didn't know this. Helio received a score of 25 points and 27 points respectively.
Marie Osmond performed a quickstep that was about as entertaining to watch as any dance I've enjoyed on this series to date. Dressed like a female soldier of yore she and her partner danced the quick step to "Boogie Woogie Bugle Boy". For the second dance, Marie and her partner performed a Cha Cha.
I note that Marie has really lost weight during this competition. Also, I just heard on the Fox morning show that Marie's father died last night. Sheesh, this has been a strange year for the contenders of ABC's "Dancing With the Stars", Fall 2007. Marie received scores of 28 and 24 points respectively.
Mel B and her partner performed a foxtrot that was just so-so. Danced to the tune of "Jimmy Mack", the steps seemed to simplistic for the best dancer of this year's contest. Later Mel B and her partner danced a Paso Doble and while it was done well and did receive a perfect score from the delighted judges, this was not my favorite dance of the evening. Besides that perfect score of 30 for the Paso Doble, Mel received 24 points for the foxtrot.
Jane Seymour performed next and I was very surprised that she had such a close relationship with Johnny Cash. So much so that her son is named after the singer!
In fact Jane and her partner danced a quick step to Cash's "I Walk the Line". I was unimpressed with this performance although Jane did look very pretty that I should look so good what with me about the same age as Seymour. Jane and her partner then performed a Cha Cha to the "Shoop Shoop" song and she should get extra points for this. Jane was awarded 24 and 26 points respectively.
Jenni Garth is a very good dancer though I doubt she'll beat Mel B. Garth's problem is she gets lost between the males left, the best dancer Mel B, and the two old ladies. Jenni and her partner performed a rumba and a Viennese Waltz. I thought the video below featuring Jenni was the best performance of the night although Garth did not get a perfect score. Garth received 25 and 28 points respectively.
Finally Cameron, darling of the soap opera crowd, performed a quick step then a jive. Which confuses me as they seem like the same dances to me. Cameron and his partner presented a great ending with the jive and received scores of 24 and 27 respectively.
Top Ten Stars In ABC's "Dancing With the Stars" Fall 2007
=======
Mel B-Spice Girl
Mark Cuban-Internet Entrepreneur-sent home 10/22/07
Marie Osmond-Singer
Jane Seymour-Actress-sent home 11/6/07
Wayne Newton-Las Vegas Entertainer-sent home 10/8/07
Helio Castroneves-Race car driver
Jennie Garth-Actress
Cameron Mathison-Soap Star
Floyd Mayweather-Boxer-sent home 10/15/07
Sabrina Bryan-Cheetah Girls-sent home 10/29/07
Prior Links to Posts for "Dancing With the Stars" Fall 2007
======================
Episode 9/23/07
Episode 10/1/07-The Top Ten
Episode 10/8/07-Wayne Newton Goes Home
Episode 10/15/07-Dispute of the Feet; Mayweather Sent Home
Marie Osmond Faints
Sabrina, the Best Dancer of All, Sent Home
Down to Top Five
"The Bachelor" Fall 2007 Narrows the Selection Down to Two
Let me get this straight, Brad Womack, this year's handsome hunk on ABC's "The Bachelor" series gets to sleep, ie have sex, with all THREE of the finalists?
This same scenario happened during last year's Bachelor series and I thought the reference to nights in a fantasy suite then were coy and ambiguous. There was no mistaking it this year for several times the phrase "knowing them in this way" or some variation thereof, was employed.
"This way" can only mean sexual because Brad did invite all three finalists, Bettina, DeAnna and Jenni, to spend the night in the infamous "fantasy suite".
This is the part that bothers me. I will never understand how DeAnna, for example, can sleep next to Brad knowing that just last night he spent the night with, say, Jenni. Brad gets all the fun, heh, while those poor ladies have to sell their souls, pride, and now their bodies for this guy. A fellow who has NO faults it seems because all 25 of the original contenders now down to 3 are or were fabulously in love with Brad Womack and come on, everybody has some faults, eh?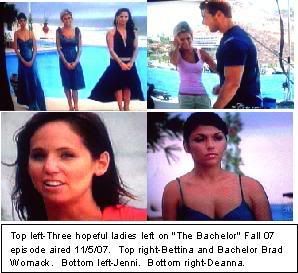 But never mind this, the very tired Brad had to meet with his three bedmates and send one packing. He sent Bettina home and I don't blame him. When Brad met Bettina's family they were very derisive of Brad's lack of an education. The scene almost broadcast Bettina's future rejection.
So it's now down to DeAnna and Jenni and as I said in my post last week and as I now still maintain, I think he will choose DeAnna. Jenni has to spend a year in Phoenix because she was selected as a dancer for the Phoenix Suns. DeAnna lives in Georgia, the state where Brad spent his childhood and hey, it's convenient.
After Brad choose DeAnna she can then marry her dreamboat man and hear for the rest of her life how wonderful Bettina and Jenni were in bed.
Heh.
The top 14 contenders for "The Bachelor" series, fall 2007
============================
Deana
McCarten-sent home 10/15/07
Bettina-sent home 11/5/07
Estefania-(Stephy) -sent home 10/15/07
Kristy-sent home 10/22/07
Lindsey-sent home 10/8/07
Mallory-send home 10/1/07
Erin-sent home 10/1/07
Jessica-sent home
Jenni-
Sheena-sent home 10/29/07
Michelle-sent home 10/1/07
Sarah-sent home 10/8/07
Hillary-sent home 10/22/07
Jade-sent home 10/15/07
============
Prior Links for posts for "The Bachelor" Fall 2007
=============
The First 25..Down to 15
Episode 10/1/07-Down to a Dozen
Episode 10/8/07-Nine Ladies Left
Down to Six
Hillary Gets Hysterical-Four Left
Sheena Sent Home-Episode 10/29/07
Top Two-Episode 11/5/07
=============
Focus on TV Posts of Fame
Those Wacky TV Chefs.
Includes Rachel Ray and the sexiest chef of them all.
TV News Pundits
including Russert, spitting Matthews and the one I adore.
"Dancing with the Stars"
of 2007, reviews, pics and videos.
American Idol 2007 and The Bachelor.
One night's review with links to all the others.
===============