Heh.

I don't know what Donald Trump was thinking with that two-hour "Celebrity Apprentice" episode on 1/31/08 but what a waste of time.

I mean, recycling the ugliest shoes on the planet that only cost about a buck or two brand new? Then acting as if this is a charitable endeavor to end them all.

Some pics you'll see nowhere else on the Internet.

Also, some pics and thoughts on the Ekunaba dog show and hey, how about some video from...tada..THE PUPPY BOWL!

We've got it all in this post.

TIDBITS

Bizarre Holidays in February

February 1 is Serpent Day
February 2 is Purification Day
February 3 is Cordova Ice Worm Day
February 4 is Create A Vacuum Day
February 5 is Disaster Day
February 6 is Lame Duck Day
February 7 is Charles Dickens Day
February 8 is Kite Flying Day
February 9 is Toothache Day
February 10 is Umbrella Day
February 11 is White Tee-Shirt Day and Don't Cry Over Spilled Milk Day
February 12 is National Plum Pudding Day
February 13 is Get A Different Name Day and Dream Your Sweet Day
February 14 is Ferris Wheel Day and National Heart to Heart Day
February 15 is National Gum Drop Day
February 16 is Do A Grouch A Favor Day





February 17 is Champion Crab Races Day
February 18 is National Battery Day
February 19 is National Chocolate Mint Day
February 20 is Hoodie Hoo Day
February 21 is Card Reading Day
February 22 is Be Humble Day
February 23 is International Dog Biscuit Appreciation Day
February 24 is National Tortilla Chip Day
February 25 is Pistol Patent Day (Samuel Colt)
February 26 is National Pistachio Day
February 27 is International Polar Bear Day
February 28 is Public Sleeping Day


Two Hours of the Absolute Dumbest Trump Attempt Ever-1/28/08
So okay, it might not have been so bad for a one hour show. But for TWO hours I expected someone would get killed or at least disappear for a long while as team Empresario and Hydra read the clues and searched desperately to the intrigue and angst of the viewing audience.
Instead all I got was an Apprentice show about recycling ugly shoes that cost only about two bucks brand new and a silly story about spying between competing teams as if it mattered one whit if each team knew what the other was doing.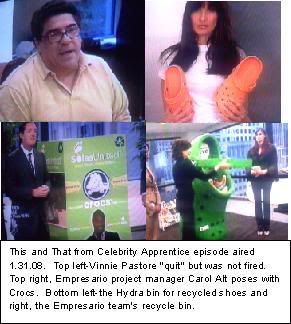 Understand that I love my Croc shoes although mine are not the brand name Croc and mine, of course, are affixed all over with little fake emeralds…too cool, just too cool.
For when folks launch into rhapsodic endorsements of those ugly shoes, we've all seen them, with the holes in the top, the ridges on the bottom, a strap on the back, usually in some awful color and most important, made completely out of man-made polypropoleneesotericunknownstuff, it makes you think the things were diamonds not yet ground and properly set.
I wear my shoes for my daily fifty jaunts around my back yard and while they're awful for walking through snow, there's no better footwear on the planet.
Which throws away the elite fashion industry's constant excoriation of the need for "properly fitting" shoes made of "breathable" leather that should, if of the right kind for a well-groomed foot, cost lots of bucks.
Here we got a five dollar pair of cheap shoes made of the petroleum industry's waste product and an entire planet thankful, dear Lord, for the pleasure of a comfortable foot so unattractively clad.
So the notion of "recycling" Croc shoes seems like overkill. I'm thinking even the poorest of kids in third world nations can afford these things. But if not, why on earth would a person ever get rid of these ugly shoes? For sure they shouldn't be thrown away as they last forever. Should the Pakistanis lose control of their nukes to Osama-wannabes and the planet goes up, boom…all that will likely be left to the three-eyed, four-fingered survivors might well be an earth filled with red, lime-green and bright yellow croc shoes in all sizes.
I suppose for a holiday, such as Christmas or a birthday, a recipient could receive TWO pair of the things and two pairs of these shoes is seldom needed. For all of their assets, one pair of these things is, in most cases, quite enough. In which case it's not exactly "recycle" but, instead, getting rid of new things one doesn't want.
Heck, I'd make a motion in our congress that a half a million bucks in foreign aid be set aside and earmarked to buy every inhabitant of every third world nation a pair of these shoes and there you have it, we'd never have to buy a poor African kid another pair of shoes ever again.
Thus it must be that the Croc shoe company was looking for a little name recognition with this recycle campaign which defies logic in terms of dollars spent for benefit earned. Which is fine. Advertising is a fine American sport but Trumps and the Croc's company attempt to convince us that this attempt to give our precious plastic shoes to the needy after we're done with them is some sort of noble sacrifice on their part is a bit of a stretch.
But the Empresario team did it up right, designing a Croc icon shoe which would hold the precious donations from fine, noble Americans who will drop their used Crocs in the container and take a tax-write off for a hundred bucks a pair.
The Hydra team, the fellows, designed a container that did advertise the product and effectively create an air of nobility but wasn't half as clever as the huge Croc icon of the female team.
With the Empresario team losing three challenges and the membership of each team thus lopsided to the point of intervention, I surmise that the producers came up with this idea of having Vinnie Pastore spy on the female team.
Vinnie ended up getting fired on the night of this review, 1/28/08, and the whole storyline was evidently a way to get a fellow fired in the event that the females lost yet another challenge. Recall that an earlier challenge had The Donald moving Gene Simmons over to the girls' team and he ended up practically firing himself.
In fact, Vinnie fired himself in that the man quit, then he tried to unquit, then The Donald told him too late and in the end Trump accepted Vinnie's resignation.
It's not that the episode wasn't entertaining in a fashion. They're trying to stage Piers Morgan as some sort of evil guy but it ain't working. Piers is a cute, redheaded fellow with an English accent and he just isn't evil. I suppose this episode was an attempt to make Vinnie into some sort of Mafia spy but honestly folks, if those two opposing teams worked in the same room there's no ill-effect of one team knowing what the other is up to. That storyline was too, too lame.
But a full two hour episode?
Overkill.
"Celebrity Apprentice" 2008 Contenders
======================
Carol Alt-model/actress
Jennie Finch-olympic medalist softball
sent home 1/24/08
Gene Simmons from Kiss-
sent home 1/17/08
Lennox Lewis-boxer
Marilu Henner-actress
Nadia Comaneci-olympic star gymnast-
sent home 1/10/08
Nely Galen-Latina TV producer
Omaroasa-former apprentice
Piers Morgan-Americas Got Talent
Stephen Baldwin-actor of Baldwin family
Tiffany Fallon-playmate of year-
SENT HOME PREMIERE NIGHT 1/3/08
Tito Ortez
Trace Adkins-country star
Vincent Pastore-star of sopranos-sent home for Croc challenge 1/28/08
Prior Links to Posts for "Celebrity Apprentice" 2008
======================
Premiere Show
The Dog Challenge; Nadia Gets Fired
The Kodak Challenge...KISS Him Goodbye
Hydra Loses the Broadway Challenge; Finch Sent Home
Vinnie Pastore Goes Home
Ekunuba Dog Show 2008
There's no commentary or any sort of review needed for a dog show. In fact, I have no idea what sorts of things I'm looking for when I watch a dog show in terms of jowls, width of hips and acceptable breed colors. Every dog entered in a dog show looks like a winner to me.
I do, of course and like most folks, seek out my own pet's dog breed and almost always the dog entered looks nothing like my own mutt called by the same genre.
Still and so I always love the dog shows and below, some pics of the Discovery channel's "Ekunuba Dog Show 2008" and below this, a short video of the seven best of breed as they are introduced.