An Ann Rule book review because one cannot get enough Ann Rule.

This one is "Last Chance, Last Dance" and Ann revisits some old crimes being solved with new technology.

Plus a "Celebrity Apprentice" update as the female team keeps losing every challenge.

Finally, an American Idol update.

All with pics and video you'll find nowhere else on the Internet.

TIDBITS

Crazy Quiz Show Answers...


BIG QUIZ (LBC)
Gary King: Name the funny men who once entertained kings and queens at court.
Contestant: Lepers.


QUIZMANIA (ITV)
Greg Scott: We're looking for an occupation beginning with 'T'.
Contestant: Doctor.
Scott: No, it's 'T'. 'T' for Tommy. 'T' for Tango. 'T' for Tintinnabulation.
Contestant: Oh, right . . . (pause) . . . Doctor.


DANNY KELLY SHOW (RADIO WM)
Kelly: Which French Mediterranean town hosts a famous film festival every year?
Contestant: I don't know, I need a clue.
Kelly: OK. What do beans come in?
Contestant: Cartons?


BEG, BORROW OR STEAL (BBC2)
Jamie Theakston: Where do you think Cambridge University is?
Contestant: Geography isn't my strong point.
Theakston: There's a clue in the title.
Contestant: Leicester.






BBC NORFOLK
Stewart White: Who had a worldwide hit with What A Wonderful World?
Contestant: I don't know.
White: I'll give you some clues: what do you call the part between your hand and your elbow?
Contestant: Arm.
White: Correct. And if you're not weak, you're . . .?
Contestant: Strong.
White: Correct - and what was Lord Mountbatten's first name?
Contestant: Louis.
White: Well, there we are then. So who had a worldwide hit with the song What A Wonderful World?
Contestant: Frank Sinatra?


LATE SHOW (BBC MIDLANDS)
Alex Trelinski: What is the capital of Italy?
Contestant: France.
Trelinski: France is another country. Try again.
Contestant: Oh, um, Benidorm.
Trelinski: Wrong, sorry, let's try another question. In which country is the Parthenon?
Contestant: Sorry, I don't know.
Trelinski: Just guess a country then.
Contestant: Paris.


THE WEAKEST LINK (BBC2)
Anne Robinson: Oscar Wilde, Adolf Hitler and Jeffrey Archer have all written books about their experiences in what: prison, or the Conservative Party?

Contestant: The Conservative Party.


STEVE WRIGHT IN THE AFTERNOON (BBC RADIO 2)
Wright: Johnny Weissmuller died on this day. Which jungle-swinging character clad only in a loincloth did he play?
Contestant: Jesus.
_

"Celebrity Apprentice 08"-Finch Fired When We Hardly Knew Her
So The Donald steals the idea of having a celebrity apprentice series from "Dancing With the Stars" and on some level it works. I'm not convinced that anyone but die-hard Apprentice aficionados are tuning in but a die-hard Apprentice fan, that would be me.
So in the most recent CA episode as of this writing, which would be Thursday 1/24/08, the celebrities had just the oddest task that made no sense and the outcome was equally odd.
The task, as charged, was to sell tickets to Broadway shows. This was obviously a task pandering to two of the celebrity apprentices, specifically Marilu Henner and Vincent Pastore. Allegedly both of these contenders are familiar with or have worked on Broadway although you could tell me that they were astronauts for as much as I know. Marilu Henner was once the star of the TV series "Taxi", this I know.
Anyway, the challenge and the preparation went on as always. For the Empresario team, Henner took the lead while Pastore took the lead for Hydra.
It wasn't a particularly exciting show which might be why The Donald is hyping a two hour show coming up this week, Thursday, 1/31/08.
The major drama this past week was whether Empresario would take another loss (they haven't won a task yet) and for the better part of the hour it looked like this would finally be their week.
We had Hydra team's Piers Morgan dressed up like King Author to sell tickets and I've got a fond place in my heart for Morgan. He had been a judge for the reality series "America's Got Talent" and one team of contenders were a trio of chubby female singers. Morgan expressed his fond appreciation for the well-padded female figure and hey, a fellow who likes chubby broads is okay in my book. He made a fine King Author as well.
David Hyde Pierce, star of Frazier and now star of Broadway's "Curtains", showed up and he looked very, very skinny. He's always been on the thin side but folks this fellow looks like he has real eating issues.
Beautiful model Carol Alt and Jenny Finch assumed the behind the scenes work and they complained that always seems to be their assignment. Well hey, it would make a little sense to put Carol out there if for nothing else but to attract the men.
In fact this is why Jenny Finch was finally fired by The Donald as he decided that she wasn't made for the cut-throat world of corporate culture although she had nothing to do with the failure of the Empresario team.
Half the people who got fired have had nothing to do with failure to win, at least so far this year, so why should The Donald change things?
This week it's a two hour "Celebrity Apprentice" and I admit to a curiosity as to why such a thing is necessary.
"Celebrity Apprentice" 2008 Contenders
======================
Carol Alt-model/actress
Jennie Finch-olympic medalist softball
sent home 1/24/08
Gene Simmons from Kiss-
sent home 1/17/08
Lennox Lewis-boxer
Marilu Henner-actress
Nadia Comaneci-olympic star gymnast-
sent home 1/10/08
Nely Galen-Latina TV producer
Omaroasa-former apprentice
Piers Morgan-Americas Got Talent
Stephen Baldwin-actor of Baldwin family
Tiffany Fallon-playmate of year-
SENT HOME PREMIERE NIGHT 1/3/08
Tito Ortez
Trace Adkins-country star
Vincent Pastore-star of sopranos
Prior Links to Posts for "Celebrity Apprentice" 2008
======================
Premiere Show
The Dog Challenge; Nadia Gets Fired
The Kodak Challenge...KISS Him Goodbye
Hydra Loses the Broadway Challenge; Finch Sent Home
American Idol 08 Goes to Charleston and San Diego
It's an election year and every week some state or another is having a primary. There's also a slew of reality shows that have seen creation since "American Idol" made its debut almost seven years ago.
It's become tradition for AI to premiere early in the year, stringing out the series into May and there's no reason not to do the same.
Except "American Idol" 2008 hasn't had the blockbuster audiences it's seen in prior years. Which doesn't mean the audiences in early 2008 haven't been significant and in any other year this would be an amazing audience capture. Unfortunately AI has a history and it is to this history that this ultimate reality show is compared.
Which makes me wonder if AI's visit to the cities of Charleston, South Carolina and San Diego, California wasn't completely overlooked in the shuffle save this one lone Blogger.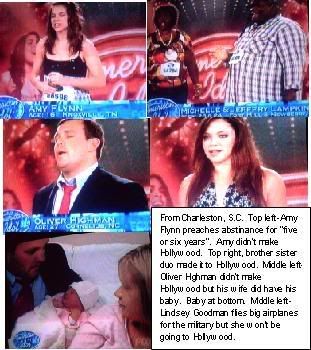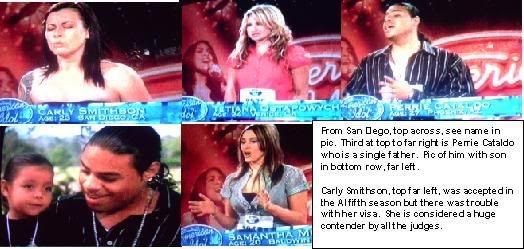 I've heard and read griping that this preliminary AI series is old hat, that the notion of crazies who can't sing auditioning for possibly the most difficult singing competition on the planet is old hat.
I like to tune in this early in the competition because a)well I'm a Blogger and I blog about it and b)I like to see if I can pinpoint the next possible American Idol. Last year I picked Jordin Sparks and the year before I honed in on Carrie Underwood.
This year I think I've spotted a real contender from the San Diego competition. Not to mention my own personal favorite.
Keep an eyeball peeled for Carly Smithson. She and her husband own a tattoo parlor and, indeed, she herself is covered with lovely tattoos. Carly had tried out and was enthusiastically accepted for the fifth season but some kind of Visa problem forced her to drop out. On the night of the San Diego tryouts all the judges greeted Smithson as if she were an old friend and they enthusiastically voted her on to Hollywood.
Out of all the contenders in four cities, including the two covered this week and the prior shows in Philadelphia and Dallas, Smithson is the first to catch my eye so forcefully.
I, of course, have my own personal favorite, my guy from Delaware, Chris Watson.
Below is a video remix of the San Diego and Charleston contenders. Check out Smithson.