Several new True Crimes this post, including a mother who killed her three children.
"Terrible things happen to good people, it doesn't mean somebody is to blame" is a comment by the fine union representing the Social Service Workers who didn't meet with this mother even though three calls were phoned in warning that this mother threatened to kill the children.

"She did love these children very much, until these recent events," was the comment by the killer mom's attorney.

Three innocents are dead and watch as they all scramble to excuse the behavior or EVERYBODY involved.

Also, Bobby Cutts gets his sentence, a male prisoner is turning back into a …male? He loved Obama and he got stabbed for his devotion, an update on the Lane Bryant murderer and a rogue Gynecologist mutilated hundreds of women.

| | |
| --- | --- |
| | Quote of the Day |

Forget the Dead Innocents, We Must Defend Our Own Fine Selves!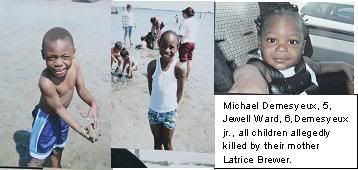 "She did love these children very much, until these recent events.""Terrible things happen to good people, it doesn't mean somebody is to blame."
The first quote above includes the wise words of a legal aid attorney of Leatrice Brewer who drowned her three children on Sunday, 2/24/08. But of course this murdering mom loved her children! That is until she murdered them.
The second quote above includes the words of the President of the Civil Service Employees Association. This union represents the Social services supervisor who was suspended as a result of the failure to respond to three phone calls regarding Brewers' threats on the children's lives. Because, goodness, this is just bad stuff folks, like bad weather. Nobody's at fault or anything!
From Newsday.com:
New Cassel mother pleaded not guilty Tuesday to charges that she killed her three children.

In a brief arraignment in a hospital room at Nassau University Medical Center, a Legal Aid attorney entered a plea of not guilty for Leatrice Brewer, 27. Brewer, who is in custody in the hospital's intensive care unit, lay prone throughout the brief proceeding, her hands cuffed to the bed and a blanket pulled up to her neck. A pool reporter described her demeanor as somber, and said she appeared to have been crying. She was hooked up to various monitors, and to an IV.
One child had been stabbed repeatedly before the murdering mom finally drowned the child and the other two children right behind. Leatrice Brewer was no stranger to the local New York social service department. She'd been reported many times prior to these horrific deaths but nothing was deemed amiss by the fine, union-represented public bureaucrat employees who checked out the complaints.
May Jesus hold these innocents in His loving arms and may the people who didn't do their jobs suffer the consequence no matter what union represents them.
Rogue "Gynecologist" Sought for Abuse of Many Women
This story's a bit confusing as it is occurring in Australia and the many agencies and such involved sound foreign to an American reader.
From Foxnews.com:
Australian police have launched an investigation into the rogue doctor, known as the Butcher of Bega, who is accused of mutilating and sexually abusing hundreds of women.

As ex-doctor Graeme Reeves, of Castle Hill, New South Wales, went into hiding Monday, The Daily Telegraph can reveal that other doctors accused of serious misconduct, including removing the wrong breast from a cancer victim, continue to practice.

Police Commissioner Andrew Scipione's office confirmed allegations made against Graeme Reeves by hundreds of women across the state was likely to be referred to the state crime command.
It seems that there are many doctors involved in this investigation, the most horrendous being a fellow who removed a patient's clitoris and most of her external genitalia, alleging she wouldn't need it since her husband was dead.
According to the story linked above, there is an agency where rogue doctors can be reported for the error of their ways. Except the female mutilator only had his license to work at a hospital removed.
It was only after filing a CRIMINAL complaint that these, eh…CRIMINALS, began to be rounded up.
Shot Dead Because of a Snowball
From USA Today:
PHILADELPHIA (AP) — A teenager was fatally shot by a neighbor who became enraged after he was hit by a snowball, police said.
Teven Rutledge was having a snowball fight with a friend on Sunday, his 16th birthday, in the city's Feltonville neighborhood. They hit a neighbor, who came back with a gun and shot the boy in the head, according to police.

Rutledge was taken to Temple University Hospital, where he was pronounced dead around 11:30 a.m. Monday, according to police.
The article links notes that it's unclear whether the dead kid meant to hit his murderer or not with the snowball.
DOES IT MATTER? As if, hey, if the kid was aiming at the man with his evil snowball then it's okay to get a gun and shoot him in the head?
And we have more wise quotes. This from the Chief Inspector of this crime:
"It's horrendous to shoot somebody over a snowball."
Is this an understatement or what?
Lane Bryant Killer's Voice Released in 911 tape
Somebody's hiding this guy. For with all the publicity released about this guy, out in Chicago-land somewhere, this fine fellow has a girlfriend giving him cover, or else a mother who is so very proud of her boy.
Tinley Park police, hoping someone might recognize the gunman's voice, on Monday made public a second portion of a 911 recording from the Lane Bryant store where five women were slain.

"The audio was carefully edited to delete the voices of the victims and isolate the voice of the killer," police Cmdr. Rick Bruno said in a statement. "This release is made in hopes that the voice of the murderer will be recognized, and that the person who knows the killer will contact the Tinley Park Police Department."
The article linked above still refers to this as a botched robbery attempt. I think it was more heinous than that. For the perp tied up the victims with duct tape and covered their heads with clothing. He also "fondled" one of the victims.
It was the store manager who managed to call 911 and it is her desperate and dying voice heard on the tape.
Somebody's hiding this guy. Such a fine, fine man.
Homeowner Shoots and Kills Burglar
I wish that online newspapers would prominently display the STATE represented in the articles they post online. I suppose they assume that readers will know the state in which they live but that concept also assumes that the only ones reading online newspaper articles are those living in that particular state.
At any rate, I think the following happened in Arkansas as I deduce.
From Todaysthv.com:
Yell County authorities say a homeowner shot and killed one of two men who broke in to his home Wednesday night.

The sheriff says 44 year old Mike Jensen of Dardanelle carried an assault rifle as he made his way down the hallway after kicking in the door with another man.

The homeowner shot and killed Jensen with a shotgun and the other man fled in a vehicle.
Being a burglar is a dangerous business.
And still the liberals want to take away our guns that criminals like this fine dead one will likely keep their ill-gotten gun and not be shot dead by homeowners who take exception to mid of night strangers entering their homes.
Bobby Cutts Might Get Out of Jail Someday
First, let me congratulate the jurors who served on this case. Serving on a jury is a tough, tough job, and if us fools out here in la-la land who carry this country on our backs whilst raising the citizens and soldiers of tomorrow serve in our system with great import, it is on a jury.
I would never want the political elite who lack common sense to serve on juries and for sure I'd never want a job title of "professional juror" to ever become the norm.
From WRAL.com:
CANTON, Ohio — A former police officer sobbed and apologized for killing his pregnant lover and their unborn child as he appealed Monday to the jury that convicted him to spare his life.

"I accept responsibility," Bobby Cutts Jr., 30, said from the witness stand. Cutts was convicted February 15 of aggravated murder in the death of the nearly full-term fetus and of murder in the death of Jessie Davis, 26.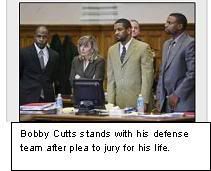 In fact Greta of Fox news interviewed one such juror and the viewer could hear the anguish in the fellow's voice. For sure my own fine self might rant and rail that the accused should be locked up with the key thrown away, I think the task of determining the guilt of a fellow citizen, such determination that might take away that same citizen's personal freedom, to be a daunting and serious one. The Cutts' jury had to listen to Cutts' bizarre assertion that he somehow managed to kill his pregnant lover, pregnant with their SECOND child not that the fine, fertile Mr. Cutts didn't know where babies come from or anything-by somehow killing her with his elbow!
The jury, filled with common sense, didn't believe that nonsense for a minute. The jury then had to determine if Bobby Cutts would get the death penalty. He did not.
Because for sure Bobby Cutts didn't kill his son the night of Jessie Davis' murder and he could have. Although he did leave the child all alone, he could have murdered that baby that the child's words "Mommy's in the rug," would never have been heard. In fact, it didn't appear that Cutts pre-planned Davis' death, at least from the testimony I heard/read.
Bobby Cutts is NOT a candidate for the death penalty, a sentence that should only be given rarely and then only under a very specific set of circumstances. Scott Peterson comes to mind.
Now Here's a Boo-Hoo…He/She Is Being Denied Her Sex Change Medicine in Prison.
Only in San Francisco would such a story make the front page news.
From SFGATE.com:
A killer who sued to have a sex change claims her body is becoming more masculine again because she's being denied treatment in prison as she awaits a ruling in her bid for the surgery. Michelle Kosilek, formerly known as Robert, said that for months she has not been allowed to have court-approved hair-removal treatment or access to a specialist to discuss her testosterone levels.
According to the article linked, the horrors "Michelle" is enduring include breasts that are shrinking, male genitals regaining their previous size and "purpose", a beard growing on his/her face and hair on his/her head that is thinning.
In short, Kosilek's body is becoming…a male? Like how he was BORN?
A fine liberal California judge ruled that this KILLER (don't forget this guy murdered his wife) has a right to a sex change while in prison, including hormone treatments, hair removal and psychotherapy.
Note how the newspaper article continually refers to this guy as a "she".
Heh.
Democrats Now Stabbing Each Other
Well Rush Limbaugh has been promoting the notion of keeping the Democrats in a state of disarray.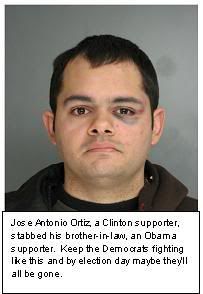 From The Smoking Gun:
FEBRUARY 25--Meet Jose Antonio Ortiz. The Pennsylvania man allegedly stabbed his brother-in-law in the stomach after the pair quarreled about their respective support of Democratic presidential candidates Barack Obama and Hillary Clinton. According to cops, Ortiz, 28, stabbed Sean Shurelds last Thursday night in the kitchen of an Upper Providence Township home.

Frankly I would stab the candidate if I were to risk jail and incarceration for such an act.
But that's just me.
=================
FOCUS ON Natalee Holloway
=================
In May of 2005, Natalee Holloway, a recent graduate just barely of age, joined some of her school mates on a much-anticipated graduation trip to the island paradise of Aruba.
Came the time to fly back home, Natalee was nowhere to be found.
The last time Natalee was seen she was leaving with three locals, one Deepak Kalpoe and his brother Satish. Also along was Joran Vandersloot, a local kid known to frequent Aruba's night spots trolling for pretty American girls.
For two and a half year the Aruban and Dutch investigators fooled around with this case, "arresting" many suspects, including those three Aruban brats, then letting them go.
Suddenly, in November of 2007 Joran and the Kalpoe brothers are arrested. An announcement by Aruban authorities came with news of the arrests that "new and incriminating" evidence had been found.
Will justice ever come for Natalee Holloway?
Below a list of links of stories on this Blog since Natalee first went missing.
First post about Natalee's disappearance from an Internet newsgroup
Paulus Vandersloot Arrested
Last three boys seen with Natalee Holloway arrested
Suspect Boys Seen Dumping Large trash bag in landfill
Alabama Governor Calls for Boycott of Aruba
Aruban investigators call Beth Holloway Twitty biggest impediment to investigation
Theory of Aruban authorities on what happened to Natalee
New "arrests" made on Holloway case
Natalee's parents file lawsuit against Vandersloots
John Ramsey and Natalee Holloway's Mom
Three Suspects Re-Arrested -November 07
Joran Released from Jail
AGAIN, Joran allegedly confesses on video