Not much true crime needing updates this week. However, we've a true crime that is really flying under the radar-a congress critter's staffer was brutally attacked! Also, time for an update on Natalee Holloway.
Pirates Attack a Cruise Ship!
Wow. What an adventure, huh?
I must ask, who the hell takes a cruise off of the coast of Somalia? Indeed according to the
article referenced in the quote below,
the cruise liner is reconsidering such cruises.
Oh, one thing the article fails to mention. As do many other Mainstream reports on the incident. The "pirates" were all members of the Religion of Peace. Smirk.
If you click the link, there is a video available that will show how the cruise ship outran the pirates.

-- A luxury cruise line will re-evaluate whether to offer future cruises off the coast of Somalia after pirates attempted to attack one of its ships early Saturday.

The pirates were in two small boats and were carrying machine guns and a rocket-propelled grenade when they attempted the attack on Seabourn Cruise Lines' "Spirit" about 5:35 a.m. local time Saturday, Deborah Natansohn, president of the cruise line, told CNNRadio.
~~~~~~~~~~
Alabama Governor Calls for Boycott of Aruba
It might work. Indeed it will PROBABLY work.
For there's plenty of island paradises all over the Central American region. You can believe that if I were planning any sort of vacation to such a locale, Aruba would be completely off my list.
THIS is how the boycott is going to be successful. Americans are not going to go marching, chanting and shouting that Aruba should be boycotted NOW. What Americans WILL do, likely, is simply go to Jamaica, Cancun, the Bahamas. The effects on Aruban tourism will be gradual but those rubes are going to feel it, take it to the bank.
By me, somebody got paid off to cover up that investigation into the disappearance of Natalee Holloway. If forced to name who, I'd say it was the casino that paid off the prosecutor AND the investigators. Why?
First, why was Joran Vandersloot gambling so la-di-da when he is underage? We also understand Joran's father, Peter, is also a gambling type of guy and often gambles alongside his underage son.
I think there's some sort of relationship between the Vandersloots and the casino but I don't know what it is. Perhaps Peter, an Aruban "Judge" (something we all can be for the right price) helps the casino out of legal jams. Perhaps handsome Joran pulls gamblers into the casino.
Of course this is just speculation but how, ladies and gems with such good taste as to be reading this, could anybody screw up an investigation as much as the Aruban authorities have screwed up this one?
I say if Aruba's going to let bribe money get in the way of investigation of missing American tourists, not a problem. We'll just not go there.
Already Aruban tourism is alleged to have dropped by 3%. They say this is because of the hurricanes.
Could be. But I'm betting Aruba will be suffering the consequences of this third world behavior for a very long time into the future.
For those who are sick and tired of Natalee's Mom always on TV, all I can say is I don't blame her a whit. If this were my daughter I'd be everywhere anyone would listen.
And she's got some big U.S. government bigwigs on her side.
Aruba needs to decide…keep the casino but lose the tourists who frequent it.
Simple as that.



By Robert Paul Reyes
Nov. 4, 2005

Beth Holloway Twitty, has demanded that three Aruban law enforcement officials be removed from the case, alleging they ignored promising leads and did not take the investigation seriously in the crucial early stages.

~~~~~~~~~~
Bizarre Attack on Senate Staffer
Reported by
The Hill,
here's a strange true crime that is flying way below the national radar.
I would think an attack on the country's congressional workers to be quite a big deal. Especially in view of the viciousness of the attack as well as the lack of a motive. The Senate Staffer was not robbed. Her job duty is listed as "investigator".
The whole thing has a bad smell.

FBI called in on Hill
By Bob Cusack and Jackie Kucinich

The FBI and Capitol Police are investigating the vicious attack of a top Senate staffer at her home last week amid concerns that the assault might be related to her work on the Finance Committee.



Emilia DiSanto, chief investigator for committee Chairman Chuck Grassley (R-Iowa), arrived at her suburban Virginia home after work Wednesday about 6:30 p.m. As she was unloading belongings from her car, a 6-foot-1-inch white man dressed in black struck her repeatedly with an unidentified object believed to be a baseball bat.

After she screamed to her family inside the house, the assailant fled. DiSanto was transported to Inova Fair Oaks Hospital, where she was treated for significant upper-body injuries. Nine staples were needed to close her head wound.
~~~~~~~~~~
Something's Veeeeeery Wrong With This Picture
Look for this crime to be flying across the national radar soon.
Because a "law school" convinced authorities to take another look at Avery's case, specifically the DNA evidence. Avery was exonerated as a result and released from prison in 2003. He is suing the state for some 35 million bucks.
I don't believe in coincidences. Burned remains of Teresa Halbach were found on Avery's property. Avery's blood was found in Halbach's vehicle. Her blood was found in his trailer home.
I'm telling you folks, whoever re-tested that DNA, they had BETTER be correct. Because authorities are going to go back and look at this little episode with a closer and jaundiced eye.
If someone made a mistake, or say, just throwing it out there, a "deal" was made by the testing people and Avery, …"We'll set you free, you sue, you give us half of what you get" there's going to be some big noise about it.
For Steven Avery allegedly spent 18 years in jail for a "rape he didn't commit". He gets out, poor baby, a murders a woman horrifically.
Something just ain't right about this, something's just not right.
From the AP:

Once Wrongly Convicted Man Charged in Slay

CHILTON, Wis. (AP) - A man who spent 18 years in prison for a rape he didn't commit will be charged with killing a woman whose vehicle was found near his home, a prosecutor said Friday.

Steven Avery's blood was found inside Teresa Halbach's sport utility vehicle, said Calumet County District Attorney Ken Kratz, who plans to charge Avery with first-degree intentional homicide by Tuesday.

"It is no longer a question, at least in my mind as special prosecutor in the case, who is responsible for ... the death of Teresa Halbach," Kratz said.

~~~~~~~~~~
More True Crime Updates HERE
================
Katrina and Rita Evacuees Murder Good Samaritan
Just remember this, Kaitlyn, it DID happen.
A kind lady helped three hurricane evacuees and got bound, gagged and murdered for her effort.
Don't let them tell you it didn't. May this be the only such incident. Perhaps it will be. But the evacuees weren't angels and they weren't victims either.
From CNN.com:

CNN) -- A Texas woman was allegedly robbed and killed by three hurricane evacuees she befriended after meeting them at her church, according to Pasadena, Texas, police.

Betty Blair, 77, was strangled to death inside her Pasadena home Friday and her bound body was discovered by her daughter Friday evening, said Pasadena Police spokesman Vance Mitchell.

Three suspects -- all described as hurricane evacuees -- were arrested Friday evening after police located the dead woman's missing car through its OnStar electronic tracking system, Mitchell said.

~~~~~~~~~~
Many Katrina Pets Rescued and Given New Homes
Yes, Americans cared about the innocent animals, Kaitlyn.


Rescued pets find new homes
By Andrea Griffith
Source: Greensboro News & Record

A 1,000-mile trip from Alexandria, Lousiana to Stoney Creek marked the start of a happy ending for about 28 pets who were either rescued or surrendered as result of Hurricane Katrina.

Teresa Craig of Gibsonville was one of several North Carolina women who traveled to central Lousiana and filled three horse trailers with 10 cats and 70 dogs. Some of those animals were dropped off at facilities in South Carolina and Maryland. About 28 of them were brought to Stoney Creek Vet.

When Craig arrived, she saw that the animals were being kept in close quarters at an overcrowded private shelter two hours north of New Orleans.

Craig said that half of the animals were rescued from the hurricane, and half of them were surrendered because of it.

Craig was invited to join the team that traveled to Lousiana because she is a veterinary technician who does relief work.





At first, Craig had mixed feelings about the groups mission, since the addition of the animals to the community would likely mean that other animals in local shelters would not get adopted. But Craigs mind was quickly changed.

They were in desperate need, she said. Theres no doubt about that.

The animals that traveled back with the team were incredibly social, according to Craig.

They were very happy to be with somebody, she said. They were a very congenial group.

Craig adopted a Siamese cat, Ivy, that she brought back. Ivy rode in the front of the truck with Craig because she was pregnant. She had five tabby kittens on Oct. 5.

Her kittens are up for adoption, but shell stay with us, she said.

Craig wasnt the only person who unexpectedly adopted one of the pets that were brought to Stoney Creek. Ashley Lineberry, a McLeansville resident, works as a receptionist at Stoney Creek Veterinary Hospital and adopted a Chihuahua she named Doc after veterinarian Dr. Glenn Huth.

Something just happened when I saw that dog, she said.

Lineberrys 9-year-old daughter Hayley is thrilled about the familys new addition. They already had three dogs and one cat.

We have a zoo at my house, she said. She added that all the animals are now getting along well, although Doc initially growled at their rottweiler.

Tina Higgs, Stoney Creek Veterinary Hospitals office manager, said that all but four of the rescued pets were adopted on the night they arrived, Sept. 12.

Everybody got a home, she said. We were overwhelmed because there were so many people.

The hospital kept the pets that night so that they could be checked for heart worm and intestinal parasites. They were also introduced to their new diet during their overnight stay.

Laura Parsons, of Greensboro, adopted a small cattle dog named Stormy from Stoney Creek and a pointer terrier mix named Ingram from a friend. Ingram was also from Hurricane Katrina; Parsons friend was providing him a temporary home.

I was not going to foster because I knew we would get too attached, she said. They become part of your family.

Parsons last dog was killed when it was hit by a car. Her 4-year- old daughter Madison welcomed two new pets.

We havent really had any problems, she said. Ultimately, I think the owners (in Lousiana) werent in a place where they could take care of them.

Craig said that Elaine French, who lives in Greensboro and traveled to pick up the animals from Louisiana, adopted a poodle that was blind in both eyes. But that was before his recent cataract surgery, which proved successful.

Now the dog can see, so thats a happy ending, she said.

~~~~~~~~~~
Slowly, the REAL Story of the Levees Comes Out
Kaitlyn,
At this time, November in 2005 this year of our Lord, there's been time for some investigation, some speculation, some inspection. For Hurricane Katrina came is a strong Cat 3 storm, not a Cat 4 as originally reported. The levees of New Orleans were alleged to be able to contain a Cat 3.
The sad fact is, whatever the outcome, those levees have never been tested anywhere near the level that they were tested during Hurricane Katrina. Who knows that had Katrina been a Cat 1 the things would also have collapsed?
In due course, Kaitlyn, after many studies by many people, after many attempts at cover-up should corruption in the levee building be discovered, the truth will come out. Below, it begins.
From the NY Times:

These levees should have been expected to perform adequately at these levels if they had been designed and constructed properly," said the expert, Raymond Seed, a professor of civil engineering at the University of California, Berkeley.
"Not just human error was involved," Professor Seed said. "There may have been malfeasance."

Professor Seed, whose team was financed by the National Science Foundation, did not offer hard evidence to back up his accusation. But he said after the hearing that the team had been contacted by levee workers, contractors and, in some cases, widows of contractors who told stories of protective sheet pile being driven less deeply than plans called for and corners cut in choosing soils for construction, among other problems.
~~~~~~~~~~
Katrina Political Cartoon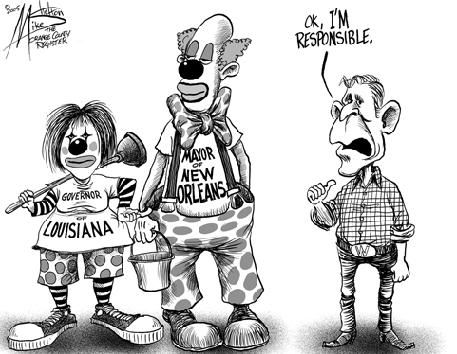 ~~~~~~~~~~
First Katrina/Kaitlyn post-the Beginning-9/6/05
9/7/05-H urricane Folklore/Wisdom and Nastiness
9/12/05-Hillary's "Katrina Kommission" and the Debacle of the Debit cards
9/14/05-FEMA Email; Dumb, blond Louisiana Senators
9/15/05-Ophelia and Grandmother
9/16/05-Katrina and the Helpless Pets
Stop Blaming FEMA-a pictorial explanation
What Will Become of New Orleans?
Katrina Gossip
Katrina Folklore
Nagin,the refinery bill,Character
Cops and Cadillacs
Documenting the Thieves
================

On the Ghost Whisperer
Some comments on my review:

Comments: There's something charmingly retarded about this show. And I find Hewitt's bizarre makeup, unbrushed hair and ridiculous and amateurishly applied false eyelashes somehow strangely entrancing.

Dave
=========================
"searches made easier" is wordy, which makes it confusing. I take it the bureaucrat knows Hewitt's character has the gift that she does. Other than this snag, the review isn't bad.
=========================
Editor note-When I posted this review on Blogcritics I had a picture that erroneously identified the winner of Dancing with the Stars as Jennifer Love Hewett. A commenter caught the error. The winner of Dancing with the Stars was Kelly Monaco. The picture was removed before posted to my own Blog.

Now the commenter below is demanding that I change another post under my series "Notable/Quotables" which the commenter claims is "factually inaccurate". Nothing in my "Notable/Quotables" series is factually inaccurate in that every quote is attributed as to report, date and time. On one quotable I did mention something to the effect that "opinions across the ideological spectrum", something like that. The commenter disagreed with my definition of the variety of quotes than made as not representing all ideologies.

Nitpick, nitpick. But hey, it's a valid comment.



why was this review corrected regarding your thinking that Love was on "Dancing with the Stars", but your factually inaccurate Notable Quotables is alllowed to stand as is?
~~~~~~~~~~~~~~~~~~~~~~~~~~~
Michael Jackson Moonbat Comments
Michael Jackson, who I discuss often and with tongue firmly in cheek in my
"Pop Culture Updates"
, sure has some nutty fans. The man could rape a little boy in front of these fans' very lying eyeballs and still he would be the hero.
In the interest of fair and balanced, we'll present the Moonbat fans' point of view and let the readers decide.
| | |
| --- | --- |
| | Patfish,you are very inform about MJ events but I think you should wait a littla while and go to bbc.com, and read about Michael Jackson single on Katrina, go read and then you tell me, it's not all said on that subject, besides THERE ARE still many, many, many people, who has lost everything because of that hurricane, you don't have to be too smart to know that just because is not in the news no more every family, person and animal is ok by now, you are completely crazy just expressing that New Orleans doesn't need any more help, think before you write or don't write anything. |
~~~~~~~~~~~~~~~~~~~~~~~~~~~