It's time for some True Crime. Two horrific shootouts over the weekend shocked the nation. Two LA Cops shot in a hostage situation in LA. A city council meeting attacked by a very disgruntled citizen, the mayor, two council members, and some police shot, and a teacher assaulted in her classroom by her estranged husband.

An American woman arrested in Saudi Arabia for drinking coffee in Starbucks, a former beauty queen arrested, a police officer arrested for rape and an update on Timothy Hennis and his military trial.

Videos of Joran Vandersloot and his many confessions.

He Survived
Oddly, this story came through the email. I immediately copied the amazing pics but somehow lost the email verbiage of the crime. There was no link provided at any rate.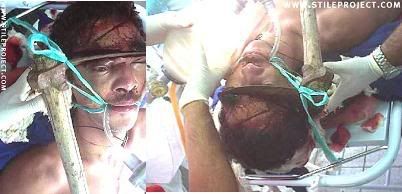 Above is the fellow who SURVIVED this axe in his head. If I remember correctly, this guy's wife found him in bed with the maid or some such. The wife got mad, she found a handy axe and ….
Hey, a pic don't lie and it doesn't looked photoshopped, so I figure the story is true.
LA Standoff Results in Two Cops and Perp Shot
This story held the headlines all day this past Thursday, 2/7/08. Seems the perp, now very dead, called the police and said he shot three family members. When the swat team showed up the fellow managed to shoot swat team officers before he was taken down.
From MSNBC.com:
LOS ANGELES - A man barricaded himself in a house after telling police he had killed three relatives, then opened fire on a SWAT team Thursday. Five people, including an officer and the gunman, were killed, police said.

There were three victims found dead but the above link does not stipulate who they are. We'll have more info on this later in the week.
Joran Vandersloot Videos
I have no Vandersloot stories with links BUT, below, several short videos with various scenes of the infamous confession tape. A short description narrates what a click on the video will show.
This is a sweet and short way to document and save the pertinent parts of the famous video.
Joran tells of his big compensation check due for all of his "suffering"