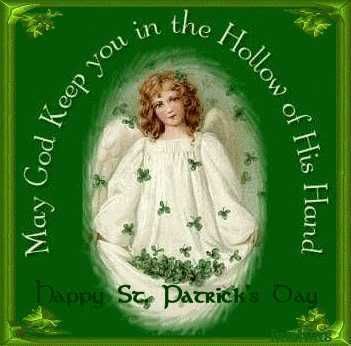 The 3/13/08 episode of "Celebrity Apprentice" was an interesting one in that a good sandwich is always interesting.

The teams prep a new Quiznos sandwich and one celebrity apprentice gets fired, there's now four left.

And Guest Writer Michelle must move the aquarium. It's a day of fear.
Pic of the Day
---

"Celebrity Apprentice" Episode Aired 3/13/08-Quiznos Sandwiches
The Celebrity Apprentice teams sure have changed since the beginning of this reality series when the teams consisted of all men or all women. Now we have a Hydra team consisting of three people: Piers Morgan, Lennox Lewis and Carol Alt. The Empresario team, which I don't think has ever won a task, had only two members: Trace Adkins and Stephen Baldwin. Baldwin got sent home the night of the Quiznos task so now there are four contenders remaining in Celebrity Apprentice, in total.
The challenge on this episode was to create a new sandwich for the famous sub chain, Quiznos. The cost of the sandwich was to be $2.00 and each team was charged with both creating the new eating sensation as well as selling as many as possible. There would no rolodexes or celebrity recruitment. The teams had to go out in the street and beg or borrow customers to come try their product.
First, about Quiznos, and its competitive cousin…Subway. I don't especially like either one of these chains but if a gun were held to my head, I'd go with Quiznos.
I understand the logic of these chains. All portions are carefully weighed and sorted out. The condiments are in separate little containers, the cheese is halved and placed on individual sheets of wax paper, by cheese type of course.
Quiznos doesn't have that long cafeteria type thing with all the condiments on prominent display that the sandwich purchaser may scrutinize the sandwich being made as is done by Subway. Instead, Quiznos has a great big oven thing and once a sandwich is ordered it is put through this oven conveyor belt to appear out of the other end for another Quiznos employee to remove, package as required then collect funds needed to complete the transaction.
By me Quiznos is far better than Subway although I'd argue for an old-fashioned sub shop where meat is flung on the grill by eyeball measurement, a pile of onions are placed alongside, and a guy with a stained apron demands your preference in terms of condiments and make it snappy. Sure, there's dirt and grease everywhere in these places but that's part of the ambience.
Still and so, Quiznos offers a pretty good sandwich/sub menu that will do in a pinch. Subway has great tuna subs and that's about all. Subway has managed to conjure up the greatest and most deceiving advertising campaign EVER. Which would be the notion that submarine sandwiches are somehow low in calories and can cause a constant consumer to lose weight. That's some feat right there, admit it.
As I watched the teams concoct their own sandwiches I was surprised as all get out at how damn small the portions on the things were. ONE OUNCE of turkey meat on Hydra's "Champ" sandwich? The Champ sandwich, ostensibly named for Lennox Lewis, consisted of that pitiful one ounce of lunchmeat turkey, cheddar cheese, chipolte sauce all on a round piece of bread.
Team Empresario, which consisted only of Trace Adkins and Stephen Baldwin, created something called the "Cowboy", for Adkins we must assume. This sandwich included what is euphemistically called "prime rib" but is really roast beef lunchmeat, cheese, chipolte sauce and a bacon sprinkling on top.
Of the two I would choose the "Cowboy" but I am still appalled at the paltriness of these sandwiches.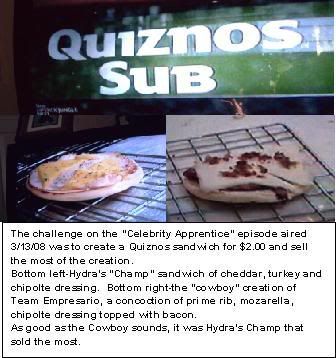 So okay, for two bucks what do I want? Thus if put that way I suppose these sandwiches are good deals but please let's not kid ourselves that this is a vaunted quarter pound of meat to satisfy our inner man meat-eater. That single ounce of meat is a bit pathetic but add some cheese, which, when melted, tastes like, well melted cheese and who doesn't like this except my granddaughter?
And we all know chipolte peppers are the latest food rage and chipolte sauce sounds just so damn cool how can we resist?
As for the "bacon" in the "Cowboy" sandwich that had Trace Adkins shouting with man-joy, come on. It consisted of a few sprinklings of fake bacon stuff on top of the melted cheese.
Hey, these sandwiches are meant to be eaten on the run, picked up for two bucks loose change in the pocket and eaten while driving over to pick up the dry cleaning during lunch hour. I understand that.
Still I couldn't help but marvel at a country that once featured "quarter pound" hunks of meat as all the rage is now cheering and screaming for one ounce of thin processed and reformed turkey meat, topped by trendy chipole sauce, of course.
Hydra once again won this task even though the "Cowboy" sandwich was much better, at least as I saw it. Piers Morgan, who's won many tasks on this series, continued to be a bit obnoxious as he is gearing his reputation to be.
It was Trace Adkins and Stephen Baldwin left in the famous Boardroom and since Trace was Empresario's project manager, it seemed like a no-brainer that he be fired.
After some discussion with the players involved, including Ivanka and some woman producer of a Broadway play that had nothing to do with sandwiches that I could ascertain, it was decided that while Adkins was PM for THIS task, Baldwin was truly the under-performer and going forward it was deemed that Trace Adkins is an all-around better worker than Baldwin. Thus Stephen Baldwin was fired.
Moving forward and with it down to the final four, it will be interesting to see the remaining celebrity apprentices working a task on their own.
Piers Morgan looks set to win this thing.
"Celebrity Apprentice" 2008 Contenders
======================
Carol Alt-model/actress
Jennie Finch-olympic medalist softball
sent home 1/24/08
Gene Simmons from Kiss-
sent home 1/17/08
Lennox Lewis-boxer
Marilu Henner-actress-
sent home 2/21/08
Nadia Comaneci-olympic star gymnast-
sent home 1/10/08
Nely Galen-Latina TV producer-
sent home 2/7/08
Omarosa-former apprentice-
sent home 3/6/08
Piers Morgan-Americas Got Talent
Stephen Baldwin-actor of Baldwin family-
Sent home 3/13/08
Tiffany Fallon-playmate of year-
SENT HOME PREMIERE NIGHT 1/3/08
Tito Ortez-
sent home 2/28/08
Trace Adkins-country star
Vincent Pastore-star of sopranos-
sent home for Croc challenge 1/28/08
Prior Links to Posts for "Celebrity Apprentice" 2008
======================
Premiere Show
The Dog Challenge; Nadia Gets Fired
The Kodak Challenge…KISS Him Goodbye
Hydra Loses the Broadway Challenge; Finch Sent Home
Vinnie Pastore Goes Home
Nely Galen Sent Home
The Omarosa/Piers Morgan Feud Begins in Ernest
Beloved Marilu Henner Fired!
Dial With Yogurt-Tito Fired
Omarosa Sent Home After Art Gallery Task
The Quiznos Challenge, Baldwin is fired
=============

Moving Day
If you've seen
The Secret of NiMH,
maybe you remember the scene when the tractor starts. "Aaaaaah!" screams Auntie Shrew. She rushes around, shrieking, "Run! It's Moving Day!" (If you haven't seen it or don't remember, well, then the image won't help you any. Sorry.)
Now I know why she shrieked and ran around in circles.
When lives hang in the balance over a move, it's something to shriek about. And rush. And so it was on Moving Day in alaHouse. That day was Moving Day for our aquarium.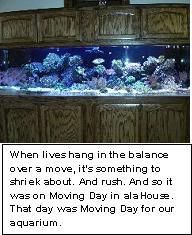 When we originally set the aquarium up, we ordered the shorter stand. We wanted to still see that little window into the kitchen from the front room, and this was the only way to do it if the aquarium was to live against that wall. For almost two years, it's been fine.
Then the protein skimmer died. Wedged into the 30 gallon sump within the aquarium stand, there was no way to get it out. We tried replacing pieces, but it's old enough the parts were unavailable. The only way to replace it was to take the aquarium apart.
Since that is such a chore, we decided to replace the stand with a taller one. A much taller one, because if we were going to block that little window, we were going to cover it completely. That led to another question, because the lights in the canopy are so bright. What if the lights were visible from the kitchen? You're not supposed to look into those lights, and if they were there, right above the sink, how could you miss? We had plans to cover that space with stained glass or shelving or both, if that was the case.
The guy that services my tank, Greg, showed up around 9am. One of his co-workers showed up just after 10am. The dismantle and setup process took the entire day; about twelve hours. They had estimated six, but they didn't realize the entire infrastructure had been glued. Most aquarium people use Teflon tape and threaded connections, but the guys who set up the aquarium originally used some kind of blue glue. On just about everything. So this time, the guys had to hacksaw the
pieces apart and rebuild them. Not a quick process, since they were very careful with everything. They didn't want any damage, or any leaks.
I missed most of the disassembly due to a conference call. Before the phone rang, I watched Greg start taking things out. He had a garbage can for the fish, a garbage can for the rocks, a garbage can for the extra water. He had several kitty litter pans for the coral, the invertebrates and the fish that weren't going back in the tank, plus any extra things that came up. All of these items were new to avoid contamination. Sea life is delicate, and we wanted to avoid stressing them as much as possible. I only got to see the first few rocks moved.
Then the call, and when that ended, all that was left in the tank were sand and water.
Though Greg looked carefully, he didn't find our mysterious clicker. (Something clicks in the tank, loudly, and I think whatever it is is responsible for many missing fish and shrimp. I was hoping we could catch it with this move.)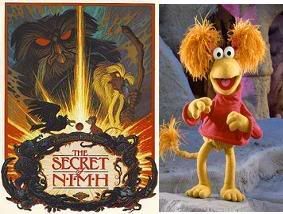 After the water was drained, the guys took things apart. While they were cleaning the tank out front, I cleaned the aquarium corner and wall. Things get dusty when you don't move them for a few years. Then the reassembly began, and I swept the floor about every half hour. The sand got into everything! The hardwood floor would not appreciate having the sand ground into it. (The guys probably think I'm a clean freak or something.)
Finally, the time came to put things back in. I was worried about the fish, who'd been in a garbage can all day, and had a momentary coronary when Greg listed the fish to his buddy. One was missing; my "Fraggle fish," the starry blenny. "What about the blenny?" I asked.
Greg looked at me blankly for a moment. "Was it in there?"
"As of last night," I replied. As one, we turned to look at the garbage can with the fish. Then at the garbage can with the rocks, which didn't have water in it, except for a very small amount in the bottom.
"I didn't see him," said Greg. "He probably hid in a rock."
My poor blenny! I watched the rocks go back in, hoping and dreading to find his poor dried body curled in a hole. We were also taking a second chance for finding the clicker thing. Each rock was picked up and inspected. All visible holes were checked. Drying sea life was removed (mostly pieces of sponge). No clicker. No blenny.
Then when we got down to the small fragment pieces of rock, there was the blenny, swimming around in the five inches or so of water in the bottom of the garbage can. Rescued! I won't ever know if he got lucky by having hid in one of the first rocks to be removed (and therefore in one that was in the water) or if he flopped out after removal to land in the water. It really doesn't matter; he made it!
We found no sign of any clicker thing.
So now it's days later and things have gotten clearer. The water, because we have a new working protein skimmer. The issues, because we also have a thumb-sized glue smear across the front of our tank. The guys say they can remove it, and I asked them if it could happen soon. We'll see. Other things have gotten clearer, too. The answers, because the view from the kitchen is fine. You cannot see the light bulbs, the aquarium puts a massive amount of light into the
kitchen, and the back of the tank is black plexi, so the candles reflect in it wonderfully. And finally, the hearing, because the new chiller is a lot quieter and you can hold conversations in the living room again.
We still have some touch-up work to do, but overall Moving Day was a success. So far, I've not lost any coral or fish, except for the ones I sent away. I've not heard the clicker thing. Everything's still a bit grey, but I think it'll be fine. In a week or so I can start adding things again.
============
More Guest Posts HERE
Michelle
The Desk Drawer writer's exercise list
~~~~~~~~~~