Pic of Day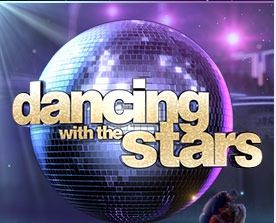 It wasn't the Latin Heart Throb on the Singing Beauty who brought in the first perfect score of this season. It was who I've called a dark horse from the start, Maria Menounos and her partner Derek who danced a perfect paso doble during the
Dancing With the Stars
2012 classical music round.
Along with a dance to classical music, the remaining contenders, which numbered seven on the episode aired 4/30/12, also danced a group dance, one Team Tango which consisted of Jaleel, Katheriine, Rashon, Maria, and Team Paso Doble which had William, Melissa and Donald.
Team Tango got the higher score of the teams with the winning team gaining and extra 27 points with their dance score and Team Paso Doble one shy, an extra 26 points added to their score.
Watching the team dances was quite enjoyable but Roshon was the big notable of that dance. Roshon got gushes from the judges.
As for the individual dances, as mentioned, Maria Menounos got the first perfect score. I think Maria and Donald Driver are beginning to really hit their stride and in the upcoming weeks will be a challenge to both William Levy and Katheriine Jenkins, both darlings of the judges and America right from the start of this season.
Below, a compilation of the dances on classical music night:
Roshon is not likely to win this thing but make no mistake, this young man dances quite well, is personable. If nothing else, Roshon Fegen has added mightily to his value as a celebrity and performer by this appearance on Dancing With the Stars and good for him. Roshon danced an Argentine Tango and got a respectable score of 25. It doesn't much matter how high Roshon's scores go, he's bearing the burden of an irascible youth and neither the judges nor America will give him much slack.
I suspect Melissa Gilbert of the Little House fame will be the next to go. This entire season either she or her partner Maksim was portrayed as suffering from some physical ailment of another, very suspicious as I see it. I think all this boo hoo is to cushion Maksim's ego that he and whoever he partners with won't run away with this thing. Melissa danced an Argentine Tango and gathered an anemic 21 points.
Donald Driver has gotten a score of 27 for his last four dance performances, the most recent being a Viennese waltz. He's got a talent for the dance and it's a matter of time before he too brings in a perfect score. Driver is a dark horse to watch out for. William Levy danced a Viennese waltz and was granted a 27 points. Levy, considered a contender to win this season, is a mere six points ahead of Donald Driver, overall and five points over Maria.
Levy's very handsome and sexy but he's got improving contenders nipping at his heels.
Katherine Jenkins, a real beauty who looked even more beautiful as she danced a rumba this past performance episode. Katherine is the leader in total points this season so far but she's within spitting distance of those same improving contenders challenging
William. Jaleel and Roshon were the bottom two on this past elimination night. They both performed a dance off and the judges saved adorable and likeable Roshon, thereby sending Jaleel home.
I must say Jaleel, who in his pre-dance vignette noted with a smile that he doesn't have a superbowl ring and he's not a Latin heartthrob, but he was going to give it his all. Once he knew he was going home, Jaleel graciously said that he'd anticipated only lasting through three dance rounds, told his mother the same. Well Jaleel lasted through seven dances and was engaging the entire time. Jaleel greatly increased his celebrity value by this exercise.
Dancing With the Stars Spring 2012-Celebrities Announced, Thoughts, Pics and Opinions
Dancing With the Stars Spring 2012 Begins-Some Early Observations. Some Tongue In Cheek
Dancing With Stars 2012-First Ousted Celeb Dancer No Surprise
Sob stories abound but celeb dancers ousted anyway. Foxtrots and Rumbas.
Top 9 Heading Toward Top 5 Heading to Winner on Dancing With the Stars 2012
Dancing With the Stars 2012-Latin Dances and an Old Pal Sent Home
Dancing With the Stars 2012-Tragedy-Motown Icon Sent Packing on Motown Night
Click here
to go to this Blog's main menu and see what other TV series we're covering.