It's the weekly update on ABC's "Dancing With the Stars" and "The Bachelor".

This for the episodes aired 10/29/07 with pics and video you'll find nowhere else on the Internet.
TIDBITS
Remember Manfred Mann?

Sabrina Second In Scores Since 10/15/07-Still Sent Home
Thanks to years as an accountant and an eerie acquaintance with an Excel spreadsheet I am aware of the dirty little secret. For two of the females dancing merrily away on the Fall 2007 "Dancing With the Stars" have consistently been in the bottom two since 10/15/07. Here's another dirty little secret: the dancer sent home on the episode airing 10/29/07 has consistently scored at least second since that same date, sometimes first.
Here's the raw data...out of a possible 90 points for three evenings beginning 10/15/07, below are the scores of the contenders left on the evening of 10/29/07.
Marie Osmond-70
Helio Castroneves-78
Jennie Garth-79
Jane Seymour-74
Cameron Mathison-78
Sabrina Bryan-83
Mel B-85
So what of the above stats screams out so obviously? Could it be that Marie Osmond, who passes out for we don't know why and Jane Seymour, who recently lost her mother, are BOTH at the bottom of the pile? Osmond and Seymour are on a mission and they've both made that mission very clear. Their goal is to prove that women over 40 are a force to be reckoned with.
Which is one helluva noble goal if these ladies were scoring at least in the top third of the contenders. Yes, I understand that those scores are given by the judges and do not necessarily reflect the opinion of the American public. Well, duh.
Still and so, this reality dancing series has been around for a couple of years as of now and the judges scores most times parallel that of the voting public. Yet even allowing for a little variation, these stats are distressingly skewed.
Sabrina was sent home instead of either Marie or Jane? Sabrina is coming in a solid second place in terms of judge's scores, beating Marie by 13 full points, and Jane by 9 points. I must wonder if the American public is being kind to old ladies Marie and Jane, one because of their age and two because of Marie's faint and Jane's loss.
Well damn The Wise I is well over age 40 and I'm all for middle aged beauties strutting their stuff. But Sabrina is a way better dancer than either Marie or Jane and my question is...should the best dancer win or should the winner of a dance contest be one who we HOPE would win?
Lookit, the American public elected Bill Clinton oncit and the greatest crime of all, the American public once elected Jimmy Carter. The American public doesn't always get it right is what I'm saying here.
These things do tend to right themselves but alas, it will be too late for Sabrina.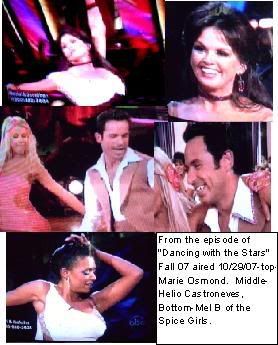 Beyond the Sabrina surprise, there are some other items of note regarding the series on the night of 10/29/07. The first one being my notation that this night must have been designated "straight hair" night. For every female had straight hair, either straight and hanging down her back or straight and combed into an artful updo.
The highest score of the night went to Mel B, who scored a perfect 30 on a Rumba. At one point I saw Jennie Garth mess up her hand movements but still she and her partner scored a respectable 27 points out of 30. Jane Seymour, who the judges said did the Jive like a ballerina, scored the lowest, at 22 points, with Marie Osmond right behind with 23 points.
The group dance was an impressive performance. Below, a short video of "Dancing With the Stars" group dance from the episode aired 10/21/07.
Top Ten Stars In ABC's "Dancing With the Stars" Fall 2007
=======
Mel B-Spice Girl
Mark Cuban-Internet Entrepreneur-sent home 10/22/07
Marie Osmond-Singer
Jane Seymour-Actress
Wayne Newton-Las Vegas Entertainer-sent home 10/8/07
Helio Castroneves-Race car driver
Jennie Garth-Actress
Cameron Mathison-Soap Star
Floyd Mayweather-Boxer-sent home 10/15/07
Sabrina Bryan-Cheetah Girls-sent home 10/29/07
Prior Links to Posts for "Dancing With the Stars" Fall 2007
======================
Episode 9/23/07
Episode 10/1/07-The Top Ten
Episode 10/8/07-Wayne Newton Goes Home
Episode 10/15/07-Dispute of the Feet; Mayweather Sent Home
Marie Osmond Faints
Sabrina, the Best Dancer of All, Sent Home
Incident With Bettina Stages on "The Bachelor" Episode Aired 10/29/07
Following right behind ABC's "Dancing with the Stars", separated by a half an hour for some ridiculous show called "Samantha Who?", the Fall 2007 "The Bachelor" began. Four contenders were left for the affections of one Brad Womack, an alleged "Texas Millionaire". On this episode Brad visited each of the final four's families.
It was interesting. In fact, one family visit was, I am convinced, completely staged.
First, the four finalists are DeAnna, Bettina, Jenni, and Sheena.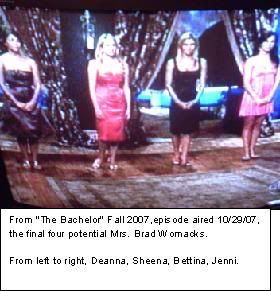 We begin with Jenni, the contender that I think has caught Brad's eye since the beginning. Jenni lives in Kansas. Her family seemed normal enough in a Kansas cornfield kind of way. Jenni has a grandmother who was portrayed as very mean and the one human obstacle that Brad must overcome. Jenni's mother is a hairdresser and her parents asked Brad some thoughtful questions that I would have asked in their situation.
Jenni's mother wanted to know why Brad couldn't meet any women in those four bars he owns and manages. Brad, in his non-committal way, said he is too busy to meet women, especially women like her daughter Jenni. Jenni's Dad asked Brad if he was a drinker, what with managing bars and such. I thought Brad waffled a bit with his, again, non-committal answer. Someone in Jenni's family asked Brad if he had any "nieces and nephews" and Brad answered NO, emphatically, and went on to say that the intention was for he and his brothers to have "lots of babies".
The big drama between Jenni and Brad is the fact that Jenni has been accepted as a dancer for the Phoenix Suns and she will need to be apart from Brad for one year while she lives in Arizona. Brad is all amiable about this but heck, if I was a fine millionaire bachelor and I had a bevy of beautiful women to choose from, damn if I'd choose one I had to wait a year for.
I'm just sayin' …
In an interesting aside, as anyone who has a Blog will tell you, one can tell quite a bit by the type of search engine questions that result in "hits" on your Blog. I've noted quite a few search engine questions to the effect "Brad Womack's daughter" or "Brad Womack's son". I'll throw it out there that someone might know of a child Womack has somewhere as to have this many search engine hits is rather odd. But I just speculate. To add fuel to my speculation, note that the question as posed to Brad was whether there were any "nieces or nephews", not were there any "children". Again, hey, I just speculate.
Moving on to Brad's visit with Sheena's parents, I noted immediately that Sheena seemed to spring from wealth. Her folks had a huge boat and a very nice house. Sheena's mother, however, was a genuine nut case.
She was into astrology so much that it was almost an obsession. Sheena's mother also had a weird way of phrasing things. In fact, Sheena was sent home that evening by Brad the Bachelor. Sheena is the youngest of the four left and Brad tended to eliminate the youngest of the original 25 right away. Beyond that, I wouldn't want a kook like Sheena's mother as an in-law either.
Of all the four contenders it is DeAnna (I've seen her name spelled so many ways I have no idea of the correct spelling at this point) who seemed to have the most normal family and it is DeAnna who seems to have the most open route straight into Brad's life.
First, DeAnna's brother and sister seem loving and normal, as does her Dad. DeAnna lost her mother when she was only 12 years old. Second, DeAnna's family lives in Georgia and this fact seemed to excite Brad. He had, as an earlier Bio about Brad shared, been born and raised in Atlanta, Georgia.
So I am Brad and I'm looking for a lifelong mate. I'm Brad and I live in Texas where I earn my living but I've still got friends from my childhood in Georgia. Well how about Brad picks a wife whose relatives STILL live in Georgia and badaboom, badabing, visits home to visit the in-laws can be combined with visits to my relatives left in Georgia and jaunts to childhood haunts?
You say my scenario sounds too calculating? Damn, yon readers, get a grip! This whole series is about calculation!
Finally there was a Bettina and Brad's visit to her family had to be staged because as this drama unfolded it was clear that Brad was either pretending to be, or really was, very angry.
Bettina's father is some kind of professor in Washington D.C. and right there you've got snobby liberals. But I digress.
Several times Bettina's father was featured saying disparaging things about our millionaire bachelor from Texas. Bettina's father wasn't happy that Brad did not have a college education. He also made a big deal about Bettina's first husband (Bettina told Brad early in the contest that she had been married before), saying that Bettina's first husband was the finest fellow alive.
Which, of course, begged the argument that if that is the case, why the hell did Bettina divorce him?
The viewer, based on these quite negative confrontations, fully expected Bettina to be sent home that night but to my surprise, Sheena didn't get a rose. Sheena's mother will have to plan her Pisces wedding with another kook it would seem.
I was right along predicting that Brad would choose Jenni as he's shown an interest in her since the beginning. But as I outlined above, I'm not sure he's going to want to wait a year for her to do her dancing thing in Arizona. Although, let me emphasize, he said that he would.
I think DeAnna's going to win this thing.
I'll end with a thought I had during the watching of this episode and now that the series is in to the final three. There's one major thing missing with this reality series of romance, love and a daring method of meeting a soul mate.
There is no such thing as a perfect man and every time this series premieres we are introduced to perfect men. Sure there's no such thing as a perfect woman either but go with me here, The Bachelor has a chance to eliminate his version of an imperfect woman. The women must, either by direction or design, wax on eloquent about this fine Bachelor and the love they have for him.
I'd love to see one of those contenders look Brad in the eye and tell him that after due consideration she thinks that, well maybe they should start seeing other people.
This NEVER happens folks. Every female contender in this series, and it was no different last season, is totally in love with the fine Bachelor offering and come on, how often does this happen in real life?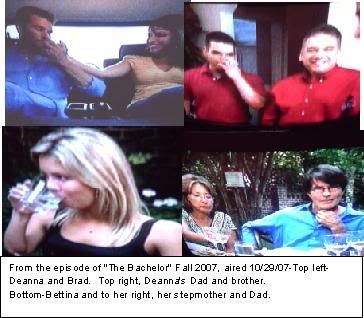 Final dozen contenders-"The Bachelor" Fall 2007
========================
Deana
McCarten-sent home 10/15/07
Bettina
Estefania-(Stephy) -sent home 10/15/07
Kristy-sent home 10/22/07
Lindsey-sent home 10/8/07
Mallory-send home 10/1/07
Erin-sent home 10/1/07
Jessica-sent home
Jenni-
Sheena-sent home 10/29/07
Michelle-sent home 10/1/07
Sarah-sent home 10/8/07
Hillary-sent home 10/22/07
Jade-sent home 10/15/07
============
Prior Links for posts for "The Bachelor" Fall 2007
=============
The First 25..Down to 15
Episode 10/1/07-Down to a Dozen
Episode 10/8/07-Nine Ladies Left
Down to Six
Hillary Gets Hysterical-Four Left
Sheena Sent Home-Episode 10/29/07
=============
Focus on TV Posts of Fame
Those Wacky TV Chefs.
Includes Rachel Ray and the sexiest chef of them all.
TV News Pundits
including Russert, spitting Matthews and the one I adore.
"Dancing with the Stars"
of 2007, reviews, pics and videos.
American Idol 2007 and The Bachelor.
One night's review with links to all the others.