A Delaware True Crime
The infant's body was never found but she was found guilty of murder nonetheless.
The story details how Julie Bailey was unfaithful to her husband. She got pregnant and hid the pregnancy from everyone but a cherished friend. She used that friend's house to give birth in.
Only no one ever saw the infant alive.
Bailey alleges she took the newborn to the home of its natural father. She knocked loudly on the window, she alleges, and was sure someone would find the child.
Only the infant has never been found by anyone. The child's biological father says he never even knew Baily was pregnant much less found a baby on his door step.
Hey, it's an intriguing defense. The jury didn't buy it. Bailey was found guilty of murder.
From Delaware Online:

GEORGETOWN -- Julie Bailey, the Seaford woman charged with killing her newborn son by abandoning him on a doorstep in January 2003, was found guilty of murder Friday afternoon.

A Sussex County Superior Court jury reached its verdict shortly before 3 p.m., after deliberating for about seven hours.

It concluded that Bailey had caused the death of the baby by abuse and neglect.


~~~~~~~~~~
Ray Gricar
I've been following
the case of Ray Gricar
, the Pennsylvania prosecutor who took a ride one day and disappeared from the planet.
What's more intriguing about this case is that reports of sighting of Ray Gricar have been turned in, even in one case pictures were submitted that closely resembled Gricar.
In short, the investigators are not even sure that Gricar is dead!
So how could a human being, with children and a live-in lover, just drop off the planet, leaving his car and laptop behind?
Now the hard drive that had been missing from his laptop (why?) has been found.
I still think this guy decided to take a vacation from his old life. But he's doing a good job of not being found. Not even his dead body.
from the AP:

Hard Drive From Missing Prosecutor Found

BELLEFONTE, Pa. (AP) - The hard drive from a laptop computer belonging to a missing prosecutor has been found in the Susquehanna River but was damaged and may not yield any clues to his whereabouts, authorities said.

The hard drive was turned over to the FBI for analysis.




Centre County District Attorney Ray F. Gricar's live-in girlfriend reported him missing April 15 after he failed to return from a drive on his day off. His car was found the next day in Lewisburg in a parking lot of an antiques mall he had visited.

Gricar's laptop computer was found in July near where the hard drive was discovered two weeks ago by a woman and her son as they skipped stones on the river.
~~~~~~~~~~
Most Heinous and Bizarre True Crime of the Week
This fellow went to great lengths to fix and dry up his poop just so it could later be grated and sprinkled on pastries at a nearby bakery. That name sounds like an Arab to me.
Whatever the case, here's the most intriguing thing-they caught this guy on tape! Yes indeed, click below and you too can witness this Moonbat sprinkling his dry poop on pastries that other humans would eat.
Poop on the Pastries Tape HERE

DALLAS A Dallas cab driver was on trial Tuesday, accused of creating a public health danger.

Behrouz Nahidmobarekeh, 49, is on trial for allegedly throwing fecal matter on pastries at a Fiesta grocery store.

Police said they found a pile of human feces by his bed. He would dry it, either by microwave or just letting it sit out and grate it up with a cheese grater and then sprinkle it at the store, officials said.

Neither attorneys in the case is clear about a motive or why the defendant would resort to something so repulsive.
~~~~~~~~~~
Horowitz/Vitale-It Gets More Bizarre
The circumstances of the murder of Pam Vitale, wife of famed attorney Ron Horowitz, has been covered
on Blogcritics
and
on my own Blog
the day after it happened.
An adolescent male, Scott Dyleski, has been arrested for that murder.
This past week, charges had been filed against Dyleski's mother. Serious charges such as accessory to murder. Since, those charges have been dropped as Dyleski's mother agreed to testify against her son.
There's also been a few smirks. You all know Gloria Allread, right? Amber Frey's attorney friend who steered and manipulated the angelic Amber to TV and book fame and fortune?
She's out and about and she's got those California investigators mad!
First, by request of both the prosecutor and the defense, a gag order has been issued on this case.
Next, it seems Scott Dyleski has a girlfriend. It is alleged that Scott went over to his girlfriend's for sex after the murder.
Next, enter stage right, Gloria Allred. Who found out about Dyleski's girlfriend and, well the only evidence is a handwritten note with the words "Gloria Allred…pro bono". Heh. Let me take a guess. Allred discovered that Scott had a girlfriend who might be a witness, phoned her up, and offered her legal and ghost writing services pro bono.
It goes on.
Even though the Judge issued a gag order, most likely, insert smirk here, because they KNEW that Allred had already insinuated herself into the case by contacting Dyleski's girlfriend, Allred STILL showed up on Greta's the first night blabbing all over the place.
The following day, the Judge and prosecutor issued an excoriating statement as Allred did assert on Greta's show that the gag order did not apply to HER!
Heh.
Hey, Gloria, saying that gag order doesn't apply to you is like King Kong saying that "no climbing gorillas" sign doesn't apply to him.

Search warrant paperwork shows new details in Lafayette murder

By: KIM CURTIS - Associated Press

SAN FRANCISCO -- Investigators collected bloody evidence, including a broken flower pot, towel and shower curtain, from the home of Pamela Vitale, according to documents released Tuesday.





Contra Costa County sheriff's deputies found Vitale's body Oct. 15 after her husband, prominent criminal defense lawyer Daniel Horowitz, returned home and found his wife murdered.

A search warrant was issued the next day and more than two dozen items were seized, including: pieces of molding, a soup bowl, two mugs, a flashlight, paper towels, piece of carpet, umbrella, antenna -- all were stained with blood, according police documents filed after the search was done and the items were confiscated.

They also took Vitale's purse and day planner.
~~~~~~~~~~
Who Is This Little Dead Boy?
And who killed him and threw his body away like so much dirty laundry?
I first mentioned this case
HERE.
At that time investigators had no idea what the dead boy even looked like much less his identity. Now, based on bone structure and size, forensic artists have a crude sketch of what the young boy look like.
From the Chicago Tribune:

DuPage County Sheriff John Zaruba also released additional details about the investigation into the child's death.

An anthropologist who looked at the remains believes the child may have been East Asian or American Indian, possibly with some Hispanic heritage, Zaruba said. The boy is not believed to be African American.

"That's another piece of the puzzle, but this sketch tells us a whole lot more," the sheriff said. "It tells us that this innocent child who once smiled and laughed has a face. And if he has a face he must have a name, a family, and maybe a neighbor or a friend."

"For now, we are his family, and his family is searching for answers."

The boy's body was found Oct. 8 in a blue canvas laundry bag in a wooded area near Ferry Road and Merry Drive.
~~~~~~~~~~
More True Crime Updates HERE
================
Wilma!
Kaitlyn,
Goodness. There's been yet another major hurricane to hit this country in this year of our Lord, 2005. Her name was Wilma and her appearance pretty much used up all the names for hurricanes and we're now up to Hurricane Beta on this date in late October 2005!
Even after Katrina and Rita, Kaitlyn, people STILL do not take care of their stupid selves. For when Wilma was threatening Florida, the vilified FEMA was in position and ready with ice, water and food.
Kaitlyn, listen closely to Grandmother. Should a hurricane threaten, first fill all bath tubs you have with water. This alone will get you through almost a week for such as pet drinking water, coffee, and such. At the least this will give enough water for three days. Also, stock up on canned goods and goodness get a manual can opener Grandmother will remind.
Consider the pets and provide for them. Get a couple of Kerosene lanterns, charge up the cell phones, same with portable computers. In short get ready for a couple of days of no electricity and LIVE WITH IT.
Because the day AFTER Wilma struck, Florida residents were all lined up and complaining about how long it was taking to get the supplies FEMA was offering.
Way I figure, the silly citizens of this country who think the government exists only to save them with no effort on their part, will not be happy until FEMA shows up at their doorstep the minute the last hurricane raindrop falls, with all supplies required. FEMA will then fill the ice chests with the delivered ice, fire up taxpayer-provided generators, fix three full-course meals, monitor all health care needs. FEMA will do this for each and every citizen who made the choice to live in a Hurricane zone.
THEN those that are not the fittest and would not survive without the government's help MIGHT be satisfied.
~~~~~~~~~~
Blanco and the Dead Bodies
Rumors are swirling this week, Kaitlyn, that Louisiana Governor Blanco would not provide instructions for almost a week on how to dispose of the dead bodies left in the wake of Hurricane Katrina.
It's probably true. Not one so-called leader in Louisiana showed one smidgeon of leadership. So the dead bodies were left to rot and decay while Edith Bunker Blanco chewed her nails and tried to decide.
They make me ill, Kaitlyn.
~~~~~~~~~~
Pets and Disaster
I've made so much disasters and pets, Kaitlyn. My argument was, and still is, that provisions should be made, first by the pet owners themselves, second by emergency personnel, to provide for our pets in the event of a disaster.
Most normal humans are simply NOT going to leave their pets behind.
So I insert this article I came upon that at the very least, Kaitlyn will follow the instructions and look out for her beloved charges.

Pet preparedness: What to do before disaster strikes

By Dr. Marty Becker
Source: Duluth News Tribune

Almost all of us live in areas that can be affected by natural disasters: hurricanes, tornadoes, flooding, earthquakes, forest fires, even ice storms and power outages. Or we may face man-made disasters from a terrorist attack.

If an emergency like Hurricane Katrina were to strike your neighborhood, would you be prepared to safely evacuate your family and your pets?

"It is best to be overly cautious during a disaster warning," said Dr. Henry E. Childers, president of the American Veterinary Medical Association. "Even if you are told to leave your home for a 'short time,' take your pets with you. Every year lives are lost as people try to return to rescue pets or refuse to leave without their pets."

Yvonne Betowt, a cat-lover and features writer for the Huntsville Times, is more prepared that a Girl Scout when it comes to her fur-family. In fact, she sets the standard.

"People in Huntsville, Alabama, are very familiar with the destruction of a tornado and we don't take them lightly," she said. If Betowt is at home when a tornado threat is issued, she immediately makes room in the closet, under the stairs, in the middle of the house for her seven cats. She has five portable carriers including a giant one that can house three cats with comfort. The cats' names are listed on the carriers they go in as well as Betowt's contact information. Inside the closet with the carriers and cats are food, water, bowls, medications, empty litter box with a bag of litter; also, a pillow, blankets, a flashlight and a weather radio.

If no one is home when a tornado threat is issued, Betowt does her best to get home as fast as possible. If not possible, a neighbor has a key to her house and her cell phone number in case of an emergency.

While few people take the threat to pets as seriously as Betowt (who could probably run FEMA), you should.

Here are some tips to help you prepare:

- Have a portable carrier for each cat, small dog, bird or pocket pet. Have leashes for each dog.

- Have a "Pet Emergency Kit" that contains food, water, medicines, copies of medical records, contact information for your veterinarian and pictures of your pets. Also have temporary ID tags that can quickly be filled in with local contact information for wherever you may temporarily end up.

- Make arrangements with a family member, friend or neighbor who will take your companion animal if you are unable to return home. Give them an extra garage door opener, spare key or tell them where a key is hidden.

- Type or print up an "Emergency Care of Companion Animals" card and place it in your wallet. The card should state the number and type of pets in your home and who should be contacted in the event you are injured or hospitalized and can't return home. It also should list contact information for your veterinarian. Small current photos of your pets are great to carry in case you get separated from your pet and need help in locating them.

- If you are at home when a disaster strikes, or if you've been given warning to evacuate, neverleave your animals behind! Make arrangements to take them to a family member, a veterinary office, an animal shelter, or, ideally, take them with you.

- Make sure your pets are wearing a collar and ID tag with your names and cell phone number. Better yet, make sure all your pets have microchip identification and keep the registry current. Once you get to a safe location, apply a temporary ID tag with new local contact information (hotel, shelter, good Samaritan, etc.).

- Ask your veterinary hospital for a copy of the brochure, "Saving the Whole Family," or go to www.avma.org/disaster/saving--family.asp.

While we're busy rescuing our pets, they are just as busy rescuing us with their ability to comfort us during difficult times. Stroking your cat, walking the dog or talking to the bird can help lower blood pressure, decrease stress and help lead us down the journey to normalcy and recovery.

"If everyone is adequately educated and prepared to take care of the animals they own and evacuate them quickly," Childers added, "human lives will also be saved."
~~~~~~~~~~
The Katrina Political Cartoon of the Week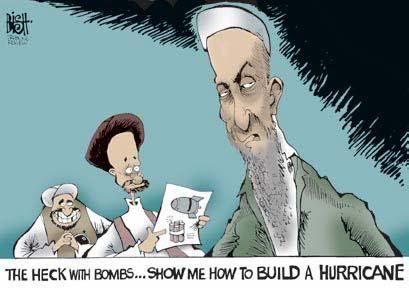 ~~~~~~~~~~

On "The Apprentice-Martha Stewart"
Review Martha Stewart Apprentice HERE
| | |
| --- | --- |
| | WHAT WAS MARTHA NOT SEEING THAT WE SAW OR IS SHE KEEPING THAT NUTCASE JIM FOR RATINGS....HE IS A WACKO THAT I CAN NO MORE SEE WORKING AT MSO THAN I CAN LARRY THE CABLE GUY. THE SHOW LOST CREDIBILITY FOR THE FIRST TIME TONIGHT. LOSE THE CIGAR ON THE GEORGE LOOK-A-LIKE. THE DAUGHTER IS BETTER THAN CAROLYN. STILL LOVE THE SHOW... |
============================
| | |
| --- | --- |
| | The guy with the unlit cigar is disgusting!!!! Does he think it's cool?? I can't stand to watch him. Suggestion: Fire HIM! |
============================
| | |
| --- | --- |
| | What is it with the old guy with the cigar. It looks so stupid and unprofessional...and in a grocery store. What is he doing at Martha's biz anyway? Her daughter is so dull. Don't think she would have hired her if she was competing. However I have a picture of her in a liplock deep embrace on that famous couch with the guy that Martha got in trouble with. Who knew? |
============================

Okay. I checked it out.

It was BEthanny that was assigned the furniture task. Not Dawn.

Dawn was, however, eliminated.

But her elimination was based on her total blase attitude, including sleeping in while all of her team mates were busy working.

Sorry about the error.
~~~~~~~~~~~~~~~~~~~~~~~~~~~
Let's Make This Perfectly Clear
The comment below was made in response to one of my Blog features "Ads We'd Like to See". A feature that is basically a cartoon I designed poking fun at some issue or another.
An example HERE
I have no idea what the commenter speaks of. I did go to the site Cruelcards.com. You need to login to get anything other than the FAQ's.
It's no mind, this feature on MY Blog is designed by me, posted by me, composed in mine own evil mind. I owe no other site any attribution nor, frankly, should any other site be using my ideas without giving ME attribution.
I resent the comment and will post this same verbiage right below the comment on the Blog that yon readers do not think I plagiarize ANYTHING on this Blog.
Who do you think I am, Joe Biden?
| | |
| --- | --- |
| | Hallmark couldn't use those quotes since they belong to someone else, cruelcards.com, I think they should be credited, or at least an honorable mention, don't you? |
~~~~~~~~~~~~~~~~~~~~~~~~~~~
Is That You, Patsy?
I have a theory about what happened to Jonbenet Ramsey. Yon reader may check it,
My Conclusions on the Ramsey case HERE
.
The comment below leaves me breathless. Not one statement in the comment is corroborated, the conclusion makes no sense.
I challenge yon reader to read MY conclusions about what happened to Jonbenet Ramsey. Because I STILL think I'm right.

Your conclusion regarding the Ramsey case is off kilter. All of the facts surrounding this case are not known to the public for obvious reasons. No other murders of young girls? Yes, there was one and a very close call. The Ramseys' are still awaiting justice, and have been broken down to the smallest of matter, financially, emotionally and physically, it is high time they are given some respect and rest. Apparently Patsy did not want to expose her young son to the tragedy that took place, he had NOTHING to do with it, nor did he witness anything, wouldn't you want to protect your son from such a discovery?
Posted by wicked1 to The Kaitlyn Mae Book Blog at 10/19/2005 09:56:36 PM

~~~~~~~~~~~~~~~~~~~~~~~~~~~
Figure the Following Comment Out for Youselves
On Clinton and Chavez HERE

How does National Review and WorldNetDaily.com count as being "all across the political spectrum"?

"I entertained the best of relations with the Clinton administration"

Where in this sentence does Chavez say he admires Clinton?

~~~~~~~~~~~~~~~~~~~~~~~~~~~
The Pandas
The commenter is absolutely correct. What is it about teddy bears and stuffed animals anyway?
On Pandas and God Being in His Heaven
| | |
| --- | --- |
| | Lookit that little face - ! Now if Bush had nominated Tien Shang (the baby panda), he just might have succeeded; who could say no to that cute little mug? Pandas: God's gift to the stuffed toy animal industry. |
~~~~~~~~~~~~~~~~~~~~~~~~~~~