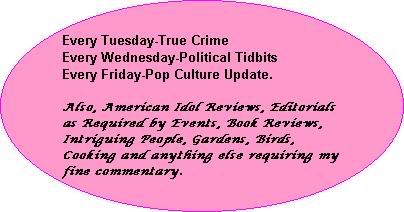 This Week- American Idol 2007 Begins-this week-Minneapolis and Seattle; TRUE CRIME-She ingested too much water and died-will this radio stunt turn into a true crime? POLITICAL TIDBITS-Obama's problem and it's worse than his middle name and worse than being a known terrorist; Kaitlyn Mae-She's a Pinball Wizard; Movie Review-"Brokeback Mountain"; POP CULTURE-Her boobs are certified as the largest in the world, but are they real?
Day by day posts with a summary below.

---
Cartoon of the Week
---
Joke of the Week
For centuries, Hindu women have worn a spot on their foreheads. We have always naively thought that it had something to do with their religion. The Indian Embassy in Washington , DC has recently revealed the true story:

When a Hindu woman gets married, she brings a dowry into the union. On her wedding night, the husband scratches off the spot to see whether he has won a convenience store, a gas station, a doughnut shop, or a motel in the United States . If not, he must take a job in India answering telephones giving technical advice.
---