Couple things going on in this Blog post.

Kaitlyn came for a visit and we made cookies. You gotta see what this child thinks is "helping" to bake cookies.

We then went to see "Alvin and the Chipmonks" and we have a review. Talk about your generation gap.

Finally, an update on "Dance Wars" 2008 with pics and video you'll find nowhere else on the Internet.
Pic of the Day
---

Dance War 2008-America Votes
I like dance shows and I like reviewing them. Sure they're not everyone's cup of tea but there's an audience for the genre.
Except this reality series, yon ladies and gems, doesn't seem to be raising any eyebrows or interest.
I can tell how popular a reality show is by the number of search hits this Blog (or any Blog for that matter but I only monitor this one) gets on a subject.
For example, let an ongoing True Crime get major activity and if the crime had been covered on one of this Blog's True Crime posts the hits will pour in. The day Lisa Montgomery went before the court recently this Blog took heavy hits all day.
"Dance War" gets very few hits, even on the day of or around the most recent show. Thus, I predict with all the authority of a Gallup that this show won't survive.
Although there's still time. Interest might grow and one or two people might actually tune in.
The concept of the show features two dance show judges from ABC's very successful "Dancing With the Stars" show, Bruno Tunoli and Carrie Ann Inaba, who choose their own dance team. The first few shows had Brunie and Carrie Ann traveling the fruited plains in search of contenders who can sing AND dance as both of these talents are required to be in "Dance Wars".
Then those 14 finalists as they were culled down performed for both judges until Bruno and Carrie Ann had a dance team of 6 dancers each.
Now it is America's turn to vote.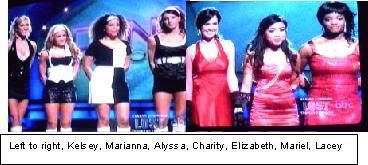 I wasn't sure if the viewers would be allowed to vote but how this will work was made clear in the episode aired Monday 1/21/08. America can now vote for the winning dance team. Whichever, either Carrie Ann's or Bruno's, team loses the vote must eliminate one dancer from the group.
I haven't formed any favorites or even any amazing opinions or analysis regarding this reality series, a sure sign I'd suggest, that an audience-participation series is not doing so well. The goal of any of these shows is to get viewers just like me to like a participant and to follow that contender's progress as the show moves along.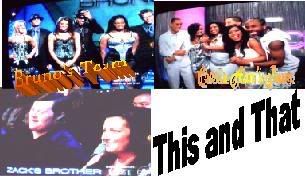 I do know the names of each team's members and perhaps I'll pay more attention to the nuances and, who knows, even form an opinion after tonight's show-1/28/08.
Carrie Ann's Team:
===================
Mariel
Alyssa
Elizabeth
Chris
Qis
Bradlee
Bruno's Team
==============
Lacey
Phillip
Kelsey
Charity
Zack
Tony
For the first night of team competition I thought Carrie Ann's team was awful. So I guess I do have an opinion.
Below a remix of both teams' performances. Play the video and note that Chris of team Carrie Ann had serious audio problems that left him totally unheard during his few seconds of solo during his team's performance. Somebody ought to be fired for letting that happen. This show is live, by the way, which allows goofs like this to make it on the air.