Bottom Three on 4/2/08-Ramiele Malubay, Kristy Cook, Brooke White

SENT HOME ON 4/2/08-Ramiele Malubay
Effective this week, the review, unique pics and videos you'll find nowhere else on the Internet, and would-be Idols eliminated will be posted on Wednesday nights immediately AFTER the elimination show. The review posted will be of the prior contests earlier that same week and will include my guess as to who will be sent home.

Which might be an incorrect guess, mind you, as the review et al will have been written/compiled BEFORE the elimination round. Thus the contender eliminated will be posted on this Blog right after it is announced so click on in for the first result.
Pic of the Day
---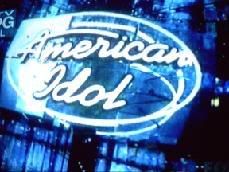 CLICK HERE FOR Pics of Top 24 American Idol 2008 Finalists
Dolly Parton Night 4/1/08
First, in breaking news, we learn that current contender, David Cook,
was rushed to the hospital today with very high blood pressure.
As I understand it, David is all right and will be back on the show tonight.
And now for a bit of music humor.
Song Titles Adjusted for Age
Herman's Hermits--- Mrs. Brown, You've Got a Lovely Walker.
Ringo Starr--- I Get By With a Little Help From Depends.
The Bee Gees--- How Can You Mend a Broken Hip.
Bobby Darin--- Splish, Splash, I Was Havin' a Flash.
Roberta Flack--- The First Time Ever I Forgot Your Face.
Johnny Nash--- I Can't See Clearly Now.
Paul Simon--- Fifty Ways to Lose Your Liver
The Commodores--- Once, Twice, Three Times to the Bathroom.
Marvin Gaye--- Heard It Through the Grape Nuts.
Procol Harem--- A Whiter Shade of Hair.
Leo Sayer--- You Make Me Feel Like Napping.
The Temptations--- Papa 's Got a Kidney Stone.
Abba--- Denture Queen.
Tony Orlando--- Knock 3 Times On The Ceiling If You Hear Me Fall.
Helen Reddy--- I Am Woman, Hear Me Snore.
Leslie Gore ---- It's My Procedure, and I'll Cry If I Want To.
Willie Nelson--- On the Commode Again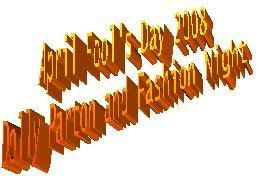 Now on to the critiques and details of Dolly Parton night. As I understand it, this is the first time Dolly has appeared as a mentor on American Idol and by me it was a most welcome addition.
Dolly is a great singer and song writer and her songs span from blues, pop, country/western, to ballads.
Brooke White was up first and Brooke, with her trusty guitar, sang Dolly's sad song "Jolene". This was a perfect song for Brooke's husky voice. Brooke wore a great outfit and her hair was styled smartly with a top braid. Long, happening earrings added to Brooke's zing.
Simon said he felt the song showed no emotion. Randy and Paula both complimented Brooke for her performance but Simon was on a tear.
One thing I've noticed about Simon is how he "sets up" for an unflattering comment to come. It was very apparent after Brooke's performance and after Randy and Paula gave Brooke her kudos. When it was Simon's turn to comment he looked around surreptitiously, like a thief entering an empty house. He then hit Brooke with that nonsense "no emotion" comment, even including the rest of the musical backup as part of a no emotion cadres when Brooke had no association with them beyond the same as every other American Idol contender.
After Simon delivers this negative comment, he turns around with a shocked expression on his face only no one had yet emitted a single boo in the audience. Simon EXPECTED the boos and he welcomed them! After a short pause the audience did, as Simon expected, boo loudly. It was all part of Simon's plan.
At least that's the view from this TV audience viewer.
David Cook sang a tune I'd never heard before, titled "Little Sparrow". This was a good choice for David as there can't be too many Dolly Parton rock and roll sorts of tunes.
I note that David got a nice, neat haircut and here's hoping that David is well and ready to perform.
While I don't expect David to win this contest, I can see him as another Daughtry type of singer, a sort of dark horse top five rocker who will get picked up, if not by the America who loves Jordin Sparks, at least by an American sub-group who appreciates good rock.
As far as I am concerned Ramiele Malubay is the Sanjaya of 2008. She keeps hanging in there week after week when she should have been long gone.
Which is not to say this cute little thing doesn't have a great voice. But for her every performance my notes indicate she is breathy, choppy and amateurish.
But hey, she's cute! For now I must assume that there's the allure.
Randy gave Ramiele a 6.5 out of 10 and I concur. A 6.5 performance should not be continuing on in American Idol's top ten.
Simon called Ramiele's performance of "cruise ship" caliber, and again, I totally agree.
I do not, however, think Ramiele will get the boot this week. I do think she will be in the bottom three.
One can hope.
Jason Castro was one of the bottom three last week and I think he will again be part of that trio.
Jason sang a song "Traveling Through", another Dolly song I'd never heard of.
This song was way to big for Jason's coffee-house voice.
Paula said she heard Jason's "rich" voice coming through and I have to snort. Jason Castro does not have a rich voice, not even close.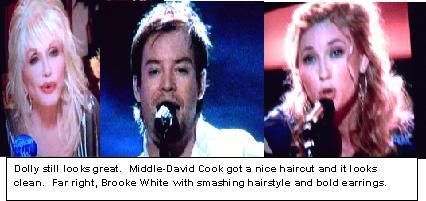 Carly Smithson sang one of my favorite Dolly songs "Here You Come Again".
First, even a fashion icon such as Simon mentioned Carly's dress and go on, she's a beautiful girl yet she wore tight red leggings with Santa Claus boots!
Carly should look at Syesha and Kristy Cook's outfits for a clue.
I thought Carly's performance was the best of the night. Carly brought originality and entertainment to that song.
The judges all considered Carly's performance top notch as well.
David Archuleta continues to looks cute and sing miracles with that rich (someone tell Paula…David Archuleta's voice is RICH) beautiful voice of his.
David always looks neat and clean, perfectly his age, with his casual sports jacket over a sweater.
David sang "Smokey Mountain Memories" and it was a beautiful performance.
Kristy Cook sang "Coat of Many Colors". It was a perfect song choice for Kristy.
And since Kristy has been in the bottom three a couple of times already, I will not be surprised if she's there again. She shouldn't be. Ramiele should be.
I don't think Kristy will be sent home this week but she's not too much longer going to be in this competition. Kristi's simply not in league with Carly Smithson, David Archuleta or David Cook for that matter.
Kristy looked positively gorgeous on Dolly Parton night and Paula, who went out of her way this night to compliment the contenders' appearance, also raved over Kristi's beautiful dress, pretty hair and happening earrings.
Simon called Kristi's performance "pleasant but forgettable", whatever that means.
I think Syesha Mercado will be saying her goodbyes on elimination night of 4/2/08. Syesha has been in the bottom three a couple of times, when she didn't deserve it as I thought.
And I suspect that it was a hail Mary pass on Syesha's part that caused her to pick Dolly's (and Whitney Houston's) "I Will Always Love You".
This is a tough song and don't think that Syesha did a bad job with it. It's just that is a song tackled often in the past and in comparison Syesha's version wasn't close. It will be the straw that will sink her.
Syesha did look pretty in her yellow frock but that hairstyle did nothing for her.
Finally Michael Johns sang "It's All Wrong But It's All Right". Michael is Australian but he surprising did a good bluesy rendition of this tune that sounded all American.
I'm not at all sure what was with that cravat thing around David's neck. I suppose it was to make him look cool but I thought it looked odd.
Below is a remix of a couple notable performance snippets from Dolly Parton night. There's some of Syesha's massacre of the Whitney song, Carly's great performance but note that awful outfit, Michael Johns' singing the blues and Jason's NOT-rich voice reaching a bit too much.