It's a final review and roundup of the Fall 2007 competition of Dance With the Stars.

Winners, losers and pics and video you'll find nowhere else on the Internet.

Plus, a rose plucked from my garden on Thanksgiving day.

True! A pic and some thoughts.
| | |
| --- | --- |
| | Quote of the Day |

HELIO WINS ABC's "Dancing With the Stars" Fall 2007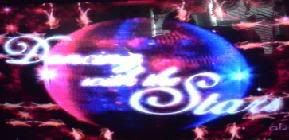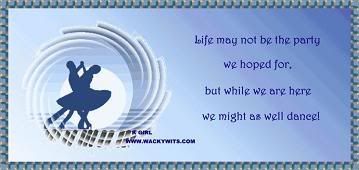 Helio is a cute fellow and goodness knows he's got an alluring smile. Mel B was a way better dancer but Mel has personality issues, as I saw it.
Marie Osmond remained long enough to win the number three spot but that honor was more about Marie's pleasant personality than her dance skill. I loved it when in response to a question about whether she was bitter about a bad comment by a judge, Marie said "What's not to like? I'm almost 50, and I just did cartwheels while dancing on national TV." As I paraphrase.
She's right, of course, and it's that enthusiasm and self-deprecation that got Marie Osmond votes that her dancing would never have gleaned.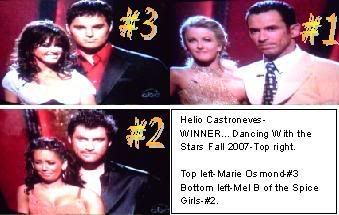 Below, some pics from earlier in the contest…just for smiles.
Top Ten Stars In ABC's "Dancing With the Stars" Fall 2007
=======
Mel B-Spice Girl-Second place
Mark Cuban-Internet Entrepreneur-sent home 10/22/07
Marie Osmond-Singer-third place
Jane Seymour-Actress-sent home 11/2007
Wayne Newton-Las Vegas Entertainer-sent home 10/8/07
Helio Castroneves-Race car driver-WINNER!
Jennie Garth-Actress-sent home 11/19/07
Cameron Mathison-Soap Star-sent home 11/12/07
Floyd Mayweather-Boxer-sent home 10/15/07
Sabrina Bryan-Cheetah Girls-sent home 10/29/07
Prior Links to Posts for "Dancing With the Stars" Fall 2007
======================
Episode 9/23/07
Episode 10/1/07-The Top Ten
Episode 10/8/07-Wayne Newton Goes Home
Episode 10/15/07-Dispute of the Feet; Mayweather Sent Home
Marie Osmond Faints
Sabrina, the Best Dancer of All, Sent Home
Down to Top Five
Down to Four
Jennie Garth sent home
Helio Wins!
October Road...Better to Read the Book
ABC's Home Page for "October Road

Nick Garrett is an author who wrote a best-selling novel about the people of his home town with the improbable name of Knights Ridge.
He comes back after a ten year separation; ten years during which he had no contact with the folks in his home town as his novel tended to reflect them in a most unflattering light.
Well right there I've got a plot I don't believe. First, I've written ten books about characters in my life and nobody cares enough to read about them. I have great doubt that any novel about a rather boring town named Knights Ridge would gain any best-selling status, particularly if the characters in this ABC series named "October Road"...the reason for that name eludes me...are any indication of their personalities.
It's not that the folks depicted on this series are bad people. They're not even boring people except if you're watching them on a busy night, allocating an hour of a precious life to watch a show filled with very ordinary life drama.
First, this Nick guy...nope, no thrills there, no hidden greatness, no still waters running deep. The guy is just not that interesting is what I'm saying here. Yes, he likes Hannah, a character from his past who happens to have a son that Nick suspects might be his. Well I don't believe this either.
If Hannah had a baby by a guy with a best-selling novel and didn't sue him to high heaven for child support...well how believable is this? The constant question as to the paternity of the boy might add an element to the drama but that doesn't mean the viewing audience believes it.
The other characters in this series, an episode I watched on Monday 11/26/07, hey, they're nice, sweet people. But they're hardly the stuff to carry a drama series for any length of time.
The barkeep at the local watering hole is all excited to be dating a former football hero and well-known ladies' man. Yes, I understand all about dating and guys who I considered out of my league suddenly importing me into their league...that kind of thing.
But it was barely better than getting a root-canal as we watched Janet Meadows bite her nails with the anxiety of hooking up with the town football hero. First he pays attention to other ladies, then he sweet talks Janet that it doesn't mean anything. Then they grapple with just how they should announce their "relationship" to the world.
It was like watching paint dry.
The rest of the plot was just as dreary. Nick and some buddies break into a college office to find a manuscript of Aubrey, a girl who has Nick's eye. Hannah sits outside of Nick's father's house early in the morning, just to tell Nick that she won't be seeing him on a romantic basis. Nick's father had to tell him to go outside because for whatever oddball reason, Hannah didn't knock.
And then there's the nut who is having a love affair with his TV. The TV even has a name...Jason! Seems he is a recluse but now we have a sweet young thing trying to coax him back into the world.
I'm not going to bother watching this show again but I don't know, if there's a craft to be done, a meal to be cooked, some web surfing needing to be done...this show might be a nice background, requiring only an occasional nod.
For now, I have no idea what TV viewing demographic this show would appeal to.
Maybe teenage females?
=============
Focus on TV Posts of Fame
Those Wacky TV Chefs.
Includes Rachel Ray and the sexiest chef of them all.
TV News Pundits
including Russert, spitting Matthews and the one I adore.
"Dancing with the Stars"
of 2007, reviews, pics and videos.
American Idol 2007 and The Bachelor.
One night's review with links to all the others.
===============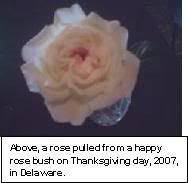 It's November of 2007 here in Serendipity Shore. On Thanksgiving morn, I plucked the above rose out of my gardens. Thanksgiving in this year of our Lord, fell on 11/22/07.
I think that's very amazing. I can't remember ever having a rose beyond mid-October in any of my gardens that had a rose bush.
That's it. We call it the Thanksgiving Rose and it has inspired me to write about it for my annual Christmas fiction story.
More Gardens and Bird posts HERE
=================