2006 year end
Let's review the year 2006 in the Pop Culture arena.

Princess Diana died in a car accident, or so the five millionth investigation into her death reports. Also, crocodile star Steve Irwin killed, Brad and Angelina have a baby, Britney wears no underwear and is short on her motherhood skills.

Lots of weird and unusual, blind items-ASKED and GUESSED-all embellished by my fine, somewhat sarcastic, commentary.
Pic of the Day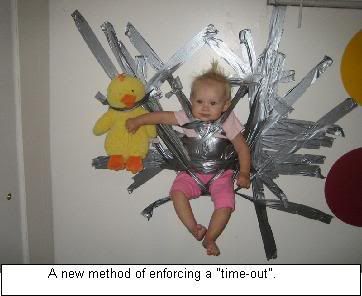 ---
Quote of the Day


Classic Quotes by Martin Van Buren (1782-1862) 8th President of the United States

"To avoid the necessity of a permanent debt and its inevitable consequences, I have advocated and endeavored to carry into effect the policy of confining the appropriations for the public service to such objects only as are clearly with the constitutional authority of the Federal Government."
-------------------------
"I tread in the footsteps of illustrious men... in receiving from the people the sacred trust confided to my illustrious predecessor."
-------------------------
"The less government interferes with private pursuits, the better for general prosperity"
-------------------------



Web Site Worth the Visit


One of the steps you can take to protect your online privacy is to use Proxify, which can be found here http://proxify.com/. Proxify uses a proxy, which is a server that sits between a client computer and the actual server to hide the identity of the client computer, which in turn, hides your identity. Proxify can even hide your computer's IP address, so you are always surfing the Web anonymously. All you have to do is type in the address of the Web site that you wish to visit and Proxify will hide your computer's identity.

CLICK HERE


TIDBITS

There is a dangerous new virus distributed Electronically. It is called the Worm Overload Recreation Killer (WORK). You can get WORK from your boss or colleagues. Do not touch it. The Virus will wipe out your Private Life.

If you come into contact with work, there are two antidotes. You can purchase Work Isolating Neutralizing Extract (WINE) or Bothersome Employer Elimination Rebooted (BEER). They are available at your local Grocery Store. Take repeatedly until Work has been completely eliminated.

Forward this to five friends. If you do not have five friends, then you have been infected by WORK and it is controlling your life.


Pop Culture-Britney, my Goodness, What's With Those Crotch Shots?
Time for a bit of Pop Culture.
Danny DeVito...we have the video and I'll never quite forget the pride he showed at admitting that he and his wife wrecked the Lincoln Bedroom. During the Clinton reign this happened, of course.
We've got some blind items, a heroic rescue of a homeless man from the jaws of an alligator, and goodness, what's going to happen to the Wiggles now?
Finally, yes I do have a scathing opinion of Britney Spears and her crotch shots for attention. BLOG POST HERE
~~~~~~~~~~~
POP CULTURE-New Jellyfish Discovered-It's Embarrassing What the Thing Looks Like
Catching up on some holiday Pop Culture, we, of course, must discuss Gwynith Paltrow's attempts to bring snobbery to new heights.
A couple of surprises. One, a group nominated for a grammy surprises and next, why on earth was opera star Placido Domingo booed recently?
We've got a pic montage of very ordinary women transformed through the power of combs and makeup, to superstars.
Finally, heh, a new form of jellyfish discovered on the planet and you've just got to see what this creature looks like. It's real, I swear, but it resembles something very manlike.
BLOG POST HERE
~~~~~~~~~~~
POP CULTURE UPDATE-Will Princess Di Ever Die?
It's Pop Culture Update time and folks, Princess Di...the driver was drunk, the tunnel was dangerous, they had on no seatbelts and were going on almost 100 mph.
Time to put on our common sense hats and look into what might be behind this constant attempt to blame the wayward princesses' death on conspiracies.
Jennifer Aniston caught topless again, Sharon Stone causes an international incident and yes, the guy really got drunk and fell asleep on the railroad tracks.
BLOG POST HERE
~~~~~~~~~~~
Pop Culture-Swan Falls in Love With Boat; Video of MORE Racism from Michael Richards
Some Pop Culture News and amusements.
A swan falls in love with a boat but there's a good reason why.
The father of that boy Madonna adopted gets re-married and Michael Richards hires a PR firm to undo his damage. We also have a video of yet another time Richards went on a racist rant.
Junk food and children and the newest war-the phone companies across the land take on the cable companies.
Comcast declares Jihad on Verizon.
BLOG POST HERE
~~~~~~~~~~~
Pop Culture-Sir Paul Looks Really Bad; Rachel Ray Scandal
Time for a dose of Pop Culture.
The biggest story of the week, Food Network Chef Rachel Ray's husband really into kinky sex.
Sir Paul McCartney has a bad face day. We've lots of blind items, an update on Katie Holmes' wedding lingerie-heh- and that joke of a Michael Jackson concert.
Finally, the Borat controversey. He lied and people feel cheated.
BLOG POST HERE
~~~~~~~~~~~
Pop Culture-Most Dangerous Road in World, Tallest Woman, Most Expensive Food
Time for a Pop Culture Update.
This week we have lots of weird and intriguing.
Such as the most dangerous road in the world, food prices you won't believe and the tallest woman in the world.
There's also Media Nuggets, asked-and-guessed blind items and some bizarre entertainment facts.
BLOG POST HERE
~~~~~~~~~~~
Pop Culture-That McCartney Divorce, Naomi at it Again, Madonna's New Child
In this Pop Culture update we've got two Presidents partying. An actual video of Dubya, drunk and the Bill Clinton bday party which never ends.
Naomi Campbell in trouble again, Madonna adopts a child, Ellen Barken cries a river, and McCartney's divorce papers.
You will never believe this guy's resume.
How Canada Dry got its name, blind items and media nuggets.
BLOG POST HERE
~~~~~~~~~~~
The Infamous Coke Ad
Lots of just plain strange and/or intriguing items in this week's Pop Culture Update.
I never heard of this infamous Coke ad but darn if there isn't a very x-rated picture in it and yes we've got the pic.
A girl with glass emerging from her forehead? How about the world's smallest cheeseburger? Cuter than all get-out.
Some blind item fun, a Madonna update and, we're not making this up, a fellow who has "suffered" for ten years in a state of arousal reserved for those Viagara users that shouldn't exceed four hours.
BLOG POST HERE
~~~~~~~~~~~
Steve Irwin's Family Cashes In
Checking in on the Pop Culture front and we have a video. It is of a rather inept model who falls down twice.
Also, correction to a Denzel Washington story posted wrong on this Blog. Oh, and the Crocodile man, Steve Irwin, has a family cashing in big time on his death. Not that there's anything wrong with this, but let's get the truth out there.
Yves St. Laurent passes out, names of celebs before they became famous and a new soft drink that might be downright dangerous.
Finally, a Muslim man married over 200 times! Check in to see how easy it is for Muslim men to divorce their wives.
BLOG POST HERE
~~~~~~~~~~~
The Mysterious Clinton Friend-Jeffrey Epstein
Time for a Pop Culture Update.
This week, the top ten creepiest ad icons. Also, more on Fox's abducted Steve Centenni, some Media Nuggets, "Skating With Stars" Swanson's baby, Dr. Phil's son's strange choice of a mate, Clinton friend Jeffrey Epstein and his choice of very young women.
Finally, some celebs as youngsters, blind item fun, awful plastic surgery and the latest in ear jewelry.
BLOG POST HERE
~~~~~~~~~~~
Katie Couric Altered
Two famous entertainers memorialized: Glen Ford and Steve Irwin.
Only be aware, this is a Steve Irwin rant because while I didn't wish the man to die I always thought he was a walking, talking idiot.
Some media nuggets, the origin of rock group names and web sites that changed the world.
Heh, Katie Couric pic before and after CBS altering, the power of makeup, Tom Cruise, Kate Moss and Liza's divorce gossip.
BLOG POST HERE
~~~~~~~~~~~
That Famous John Travolta "Kiss"
Time for some Pop Culture and a biggie. We've got John Travolta's "friendly" kiss to a male friend.
Also, a tribute to Jerry Lee Lewis, strange facts about child actors, Barbara Walters and her talking dog and, of course, some blind item fun.
Finally, you will never believe this scientist's con artist's tale of how to benefit male physical health. It involves staring at women's breasts and the doctor recommends.
BLOG POST HERE
~~~~~~~~~~~
25 Worst Web Sites
Time for a Pop Culture update and we must keep our finger on the pulse.
We've got the 25 worst web sites ever, some Rosie O'Donnell gossip and the always fun Blind Item guessing.
BLOG POST HERE
~~~~~~~~~~~
Miss Universe 2006
Time for a Pop Culture update and featured this week we have a fine critique of the Miss Universe 2006 pagent. This from a formerly rabid Women's Libber and now I see things differently.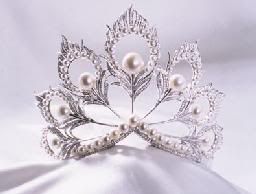 Also, woman killed by pet hybrid wolves, I am not making this up.
We have Media Nuggets, Blind Items and for the guys, the Top Ten Most Perfect Althetes EVER.
Finally, what's going on with American Idol's Katharine Mcphee and the Worst Theme Park EVER.
BLOG POST HERE
~~~~~~~~~~~
Mel Gibson, the Anti-Semitic Nut
A quick Pop Culture update and there's some interesting tidbits this week.
We begin with nut case Mel Gibson. On to some Media Nuggets and of course some Blind Item Fun.
Oh, and how about sexy Hillary's bust in the Museum of Sex? We've got a pic!
The worst company URL's of all time, John Travolta's jet-setting house and warning, rated R...Courtney Cox's baby "exposes" her.
BLOG POST HERE
~~~~~~~~~~~
Viagra, Rush Limbaugh and Zits
Here's a really strange Pop Culture Update and I admit it readily.
For the post is almost X-rated what with my rant about Viagra and Rush Limbaugh. Not to mention my firm statements about manly men and that first major requirement of same.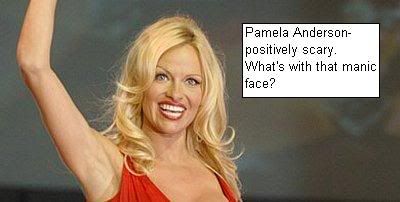 Plus we have the Connie Chung story, Britney's lies and Lauer's shame.
Oh, and cooking with a cell phone? God Bless America.
Finally, a zit story, hand to God, that will either fascinate you or make you sick.
And you gotta see what sex symbol Pamela Anderson has to done to herself. It's scarier than the zit story.
BLOG POST HERE
~~~~~~~~~~~
Star Jones and World's Ugliest Dog Contest
Ending the week with a Pop Culture Update.
Couldn't help but smirk over the Star Jones uproar. Also, lots of blind items and a new computer technology that will have you carrying your entire home network in your pocket.
There's a new "world's ugliest dog" contest and we've some pictures of the contestants. Along with the weird we have a fellow who, for a small fee, will remove his skull for you.
Some Media Nuggets, blind item fun, Angelina Jolie and Michael Jackson update and a hilarious Dan Rather cartoon.
BLOG POST HERE
~~~~~~~~~~~
Fertility Pills and Lots of Babies
Here's a Pop Culture Update.
We begin with some amazing Etch-a-Sketch work.
We've got updates on the Rolling Stone Meets the Palm Tree, Naomi Campbell, Former American Idol Fantasia's story and what she SHOULD be sharing.
Also, a story of fertility pills, triplets, quadruplets, rotton luck and a possible scam?
BLOG POST HERE
~~~~~~~~~~~
The Axel Rose/Tommy Hilfiger Fight
Time for a Pop Culture Update.
We've got two great "TOP" lists: Best Beers and Top 25 Sexiest Novels.
Also, some web gossip that proves it's only the Lamestream media that are hypocrites. A Blog goofs up big time.
Also, the Axl Rose/Tommy Hilfiger punch fest and a smirk of a cartoon about "The Davinci Code".
BLOG POST HERE
~~~~~~~~~~~
The Great Brad/Angelina Baby
Time for a Pop Culture Update.
Looking for a house? Got just the one for a mere 8 million, already decorated.
We've got a Dixie Chick and American Idol update. Oh, and the Food Police are on the prowl. Who hired them?
Plus a pic of the Brad/Angelina baby just because everyone else has one. A Brittany quote for snorts, paper cell phones and, of course, some juicy Blind Item Fun.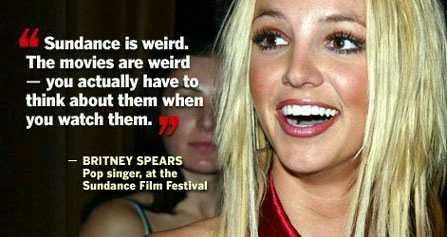 BLOG POST HERE
~~~~~~~~~~~
Darryl Hannah Chained to a Tree
Here's a Pop Culture update and in honor of the World Cup we have a pic of an amazing billboard.
Also, she's addicted to surgery, Alec Baldwin and therapy, Ice Cube and Oprah.
Oh, and why is Darryl Hannah chained to a tree and a fish "catch" you won't believe.
Finally, some Blind Item Fun.
BLOG POST HERE
~~~~~~~~~~~
Beatles' Albums Worth Big Bucks
Time for a Pop Culture Update.
This week, a notice to check that old LP connection. For there's a Beatle album that's worth thousands if you've got it.
Also, top ten wimpy cars of 2006, the unbelievable story of Jacko and the Nanny, a robot panda bear (we're not making this up) and some Blind Item Fun.
Plus a rant about that Matt Lauer and Britney interview. Britney pees upon our feet and tells us it's raining. Also, an American Idol 2006 update involving Taylor Hicks and a rapper.
Finally, a former "Friend" gives it another try. Heh.
BLOG POST HERE
~~~~~~~~~~~
5/5/06
Time for a Pop Culture Update.
A sexually segregated subway car? Some smashing Media Nuggets.
How about Maury Povich's sexual harassment suit?
Plus a new mental disorder, the eagerly awaited George Michael tour and yes, some Blind Item Fun.
BLOG POST HERE
~~~~~~~~~~~
5/12/06
Here's a Pop Culture Update and we're loaded for bear.
We've got the top ten WORST movie blockbusters of all time, a quote from Stephen Colbert's awful comedy routine, a Dane royal who eats dogs, we're not making this up.
Also, jewelry worn directly in your eyeballs. Again, not making this up and there's a pic to prove it.
BLOG POST HERE
~~~~~~~~~~~
5/19/06
Time for a Pop Culture Update and first thing, what's going on in Rolling Stone's Keith Richards' brain?
Some blind item fun, weird houses and travails of Tom Cruise.
BLOG POST HERE
~~~~~~~~~~~
5/26/06
Time for a Pop Culture Update.
How about that Star Jones/Rosie O'Donnell flap?
Plus lovely OJ's new TV show, you'll never believe this guy's lack of class.
Also, canned oxygen and a picture of a genuine mirage.
BLOG POST HERE
~~~~~~~~~~~
In Memoriam Gene Pitney
Time for a Pop Culture Update.
This week-remembering Gene Pitney. And how about that Hooters' memo from Smoking Gun.
Also, movies with gnomes and an Ebay reality show?
BLOG POST HERE
~~~~~~~~~~~
Britney Spears' Questionable Motherhood Skills
Time for a Pop Culture Update.
How about Britney Spears in motherhood trouble again?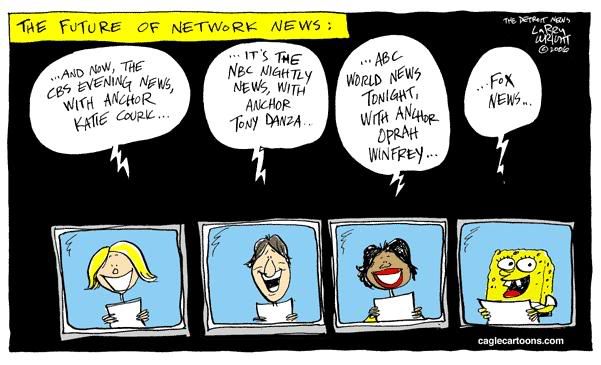 Some meows for Today's Ann Curry plus blind item fun.
Oh, and strange mental disorders you will not believe.
BLOG POST HERE
~~~~~~~~~~~
A Gossip Extortionist?
Lots of blind items, asked AND guessed.
Plus some hilarious "Extreme Makeover-Home Edition scoop.
A gossip extortionist?
BLOG POST HERE
~~~~~~~~~~~
Remember the Dixie Chicks?
Time for a Pop Culture Update.
The Dixie Chicks. Remember them? They're baaaaack.
Also, Dick Cheney's "suite" demands, entertaining the troops and ungrateful rescued hostages.
BLOG POST HERE
~~~~~~~~~~~
The Blook Awards
Time for some Gossip.
A lot going on this week.
What's a "blook" and further, what's a "blauthor"? And what contest did they win?
There's the South Park brouhaha, Archie comics in the Middle East, and much more.
Oh, and the deer stuck in the pumkin head. Gotta see this.
BLOG POST HERE
~~~~~~~~~~~
Oscar Tidbits
Here's a Gossip post.
The really good Oscar tidbits often don't emerge until weeks after the viewing. And we've got some good ones.
Also, the scoop on The Donald and Martha Stewart, Teri Hatcher and yes, nasty gossip on the painter of lights-Thomas Kinkade.
BLOG POST HERE
~~~~~~~~~~~
Virgin Mary Tree Sold on Ebay
Time for a Pop Culture Update.
Got a little weird this week.
How about the Virgin Mary in a tree being auctioned on Ebay?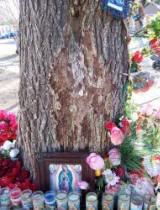 Or a family in Turkey that is evolving BACKWARDS?
Finally, check out this wild hog.
BLOG POST HERE
~~~~~~~~~~~
Smoking Monkeys
It's the weekly Pop Culture post and it's a good one.
For we've lots of monkey stories including curious ones and ones that smoke.
Then there's the air guitar championships and click in for the strange piano dog story.
An update on Michael Jackson, his "soon-to-be-released" Katrina record and his wife's ransom for giving up her children.
BLOG POST HERE
~~~~~~~~~~~
Osama's Book Club
Here's a Gossip post.
Click in if you want to join Osama Bin Laden's Book Club.
Also, why is a signature needed pledging to have sex?
Blind item fun.
BLOG POST HERE
~~~~~~~~~~~
Penguins and Hybrids
It's that time. Time for Pop Culture Gossip and Rumination.
This week we have revealing info on those hybrid vehicles.
Plus, the penguins have a new egg!
And Princess Di, why can't they leave her dead?
BLOG POST HERE
~~~~~~~~~~~
Hillary's New Bling Bling
They say Americans are hedonists but...ski slopes in the desert?
It's a Gossip post and there's lots more. Including the world's ugliest cat and Hillary's 3 carat bling-bling.
BLOG POST HERE
~~~~~~~~~~~
Britney and Her Unprotected Baby
Time for some Gossip, Rumination and Speculation.
We've got, yes we do, the world's fattest rabbit.
How about Britney Spears and her unprotected baby?
Also, American Idol beats the competition and an update on jackass penguins.
BLOG POST HERE
~~~~~~~~~~~