It's the TV Year in Review.

We've got the scoop on fashion via the "Victoria's Secret" fashion show; that awful McDonald's sex scam via "20/20", plus "American Idol" and "Dancing With the Stars" 2006. Much more.

Also, a recap on cooking in 2006 which includes, we're not making this up, meatloaf with peaches and butterfinger cookies.

Don't forget my fine Katrina compilation that I've been updating since the storm ended.

Also, a link to my Harmony database translations in both SUBJECT and DATE order.

All together with pics and links to your subjects of interest as we review the year 2006.
Pic of the Day
---
Quote of the Day


Blessed is he who expects nothing, for he shall never be disapponted."
Alexander Pope



Web Site Worth the Visit
For the Long Winter Coming

A fine collection of word games.

CLICK HERE


TIDBITS
Free Medical Advice

A doctor and a lawyer were talking at a party. Their conversation was constantly interrupted by people describing their ailments and asking the doctor for free medical advice. After an hour of this, the exasperated doctor asked the lawyer, "What do you do to stop people from asking you for legal advice when you're out of the office?"

"I give it to them," replied the lawyer, "and then I send them a bill."

The doctor was shocked, but agreed to give it a try. The next day, still feeling slightly guilty, the doctor prepared the bills. When he went to place them in his mailbox, he found a bill from the lawyer.

The Most Shocking "20/20" Episode Ever...I Couldn't Sleep After Watching
Here's some TV tidbits.
This past Friday I watched a "20/20" episode I can't get out of my mind.
A young, vulnerable teen is forced to strip for an alleged search then for three hours is continually humiliated and forced to do unspeakable things.
This while her horrible boss at McDonald's allows it to go on although the teen begs her for mercy.
It really happened. And a whole bunch of people were so despicable, stupid and immoral that it boggles the mind.
And the real perpetrator walked off completely free.
HERE
~~~~~~~~~~~
TV TIDBITS-"Victoria's Secret" Fashion Show Review-X-RATED in Prime Time
Gotta DVR folks and plan reviewing some really old movies.
This week we've got a newer offering in the form of that infamous prime time girly show known as the "Victoria's Secret Fashion Show".
Indeed these scantily clad models parade the runway. The lingerie features every sort of fantasy known to...well man. Er, make that "male".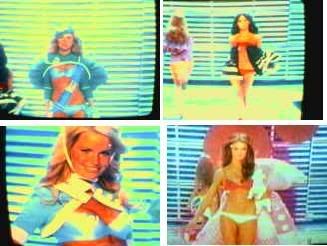 It's a bit of a hoot but we're not fooled. We know risque when we see it, even during prime time.
And a review of the "40 Year Old Virgin", a movie almost not as ridiculous as its title might sound.
It had its moments.
HERE
~~~~~~~~~~~
TV TIDBITS-"Cheaper by the Dozen" Movie Unlike the Book of My Memory
Been catching up on some old and not so old movies during this Christmas TV nothing season.
This week, a review of "Cheaper by the Dozen -2".
As a child I loved the book. I'm not at all sure Steve Martin captures the spirit of the book's character.
And a short touch on a movie about those Australian parents whose baby was killed by a dingo. The movie did not deal at all do that possible True Crime in terms of parents as perpetrators rather than a dingo.
HERE
~~~~~~~~~~~
"Dancing With the Stars" 2006-Five left; Some Halloween Fun
It's down to five on ABC's "Dancing With the Stars" 2006.
Finally Jerry Springer gets the boot.
Predictions and reviews.
Some Halloween fun at the intro.
HERE
~~~~~~~~~~~
TV Tidbits-Desperate Housewives and Faith Hill, Carrie Underwood Feud
A little bit of this, little bit of that.
A tribute to our veterans with a picture that will amaze.
Plus some TV tidbits. It's great, it's zany, it's offbeat, it's funny, it's true life.
I speak of my new TV fascination...."Desperate Housewives"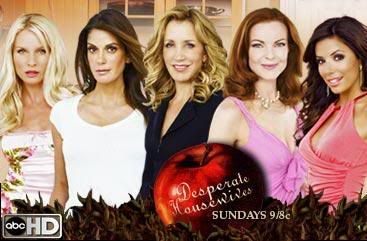 Plus what's with Faith Hill at the 2006 CMA Awards?
Finally, the new series, "Brothers and Sisters". There's are very distasteful liberal flaws in this series and it could cause it to fail.
HERE
~~~~~~~~~~~
TV Tidbits-The MEN of "Desperate Housewives"; 2006 Winner-"Dancing With the Stars"
As promised, we meet the MEN of "Desperate Housewives". They're handsome, ugly, weird and unfaithful. All are as important to the plot as the women.
Also, winner of 2006 "Dancing With the Stars"
HERE
~~~~~~~~~~~
TV Tidbits-John Ramsey Pees On Our Collective Feet AGAIN!
Time for a few TV Tidbits.
First, an old-age rant about those American Music Awards. If this is the best in music America has to offer I must thank the Lord I was born in the 50's.
Next, a summary of that "48 Hours" Tribute to John and Patsy Ramsey.
Indeed, the stupidity to defend these killing parents continues and I am amazed at those who continue to carry John Ramsey's water.
Some startling revelations on that pervert Geek John Mark Karr and the silly reason they thought he killed Jonbenet. Some serious lies were spread about this guy.
HERE
~~~~~~~~~~~
Winnah "Celebrity Duets" and "Dancing With the Stars" Goes on
No, the sexy lady didn't win Fox's "Celebrity Duets". Instead a dark horse came from behind and won the prize.
Also, the worst dancer finally eliminated in the third round of ABC's "Dancing With the Stars". We've got pics of the sexiest outfit of the evening and tongue-in-cheek reviews of the dance performances.
HERE
~~~~~~~~~~~
Three Eliminations "Dancing With the Stars"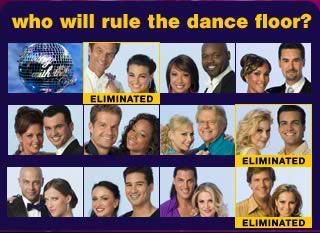 Three have been eliminated from this year's ABC's "Dancing With the Stars".
America's beloved contender for this year, talk schlockmeister Jerry Springer, survived through the Waltz round. Which he wanted to learn to dance at his upcoming daughter's wedding.
The American public is finally honing in on this reality series, proving, once again, that American women want to dance!
HERE
~~~~~~~~~~~
Evans Quits "Dancing With the Stars"
Five have been eliminated in ABC's "Dancing With the Stars" and there's some intrigue with the status of contestant Sara Evans.
Is she really going to quit?
And in memory of a special dachshund, Cleetus. He is no more but we loved him while we had him.
HERE
~~~~~~~~~~~
Celebrity Duets and Emmy Fashion Awards
Time for some TV reviews. As expected, my famous fashion commentary along with some pics. Some unexpected fashion awards are given by The Wise I.
Also, Fox's new "Celebrity Duets" and the professional singers that will bring this reality series to success.
HERE
~~~~~~~~~~~
Fox Screws Up Celebrity Duets
In this TV post we learn the results of the second round of Fox's "Celebrity Duets". Boy Fox screwed up this show, big time.
HERE
~~~~~~~~~~~
3rd Elimination "Dancing With the Stars"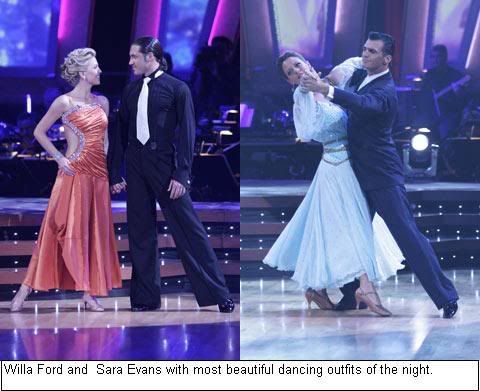 Here's a TV post and we've got the third elimination in Fox's "Celebrity Duets" and it's not Cheech Marin. Which it should be.
And the premiere of ABC's 2006 "Dancing With the Stars" and this ones a good one.
Tucker Carlson may wear a bow tie but on the dance floor? Not so debonair.
HERE
~~~~~~~~~~~
"Dancing With the Stars" 2006 Continues
TV review time and we go over ABC's "Dancing With the Stars", an interesting competition revving up American intrigue.
And Fox's "Celebrity Duets" winds down and the very worst singer since the beginning is still in the running. Go figure.
HERE
~~~~~~~~~~~
Fox's "So You Think You Can Dance 2006"
Fox's dance equivalent of American Idol-"So You Think You Can Dance" has now wound down to six remaining contenders.
Here's a review with pics of those remaining.
HERE
~~~~~~~~~~~
Those Fashion Makeover Shows
Let's talk about fashion.
More specifically, those fashion shows such as "How Do I Look?" or "What Not to Wear" that would have an unfashionable schlep nominated by family and friends made over from dumpy to delicious.
A review of the above shows plus a few others is given.
The shows are not always so kind to the fashion-deprived.
HERE
~~~~~~~~~~~
Review-American Inventor
ABC's new reality show-
American Inventor
has a bit of intrigue. The preliminaries are done and this bit might have been a mistake.
This coming week this series moves on to a new dimension. The finalists have been chosen and the public will soon be able to vote.
Since we're on the subject, a fine selection of four brand new inventions, with pictures, that will amaze.
HERE
~~~~~~~~~~~
The Next Food Network Star 2006
Here's a TV Review of Food Network's "The Next Food Network Star" just in time for the grand finale.

This turned out to be an intriguing and informative reality series that even a non-cook could enjoy.
Plus some tidbits...where was the BAM man? And Paula Dean...hmmmm, what's up with that?
HERE
~~~~~~~~~~~
TV Chefs
Here it is-the definitive collection of the TV chefs who would teach us mere mortals the culinary craft.
Featured are chefs who BAM us to death, former jailbird chefs, chefs who hand out burritos from NY manholes.
Oh, and one who is entirely too pretty and wears such low-cut tops to cook that viewers are too distracted to mind the cooking lesson upon.
HERE
~~~~~~~~~~~
Those News Anchors
Here's a TV Review of the news hosts and commentators who regularly bring us , well, news and commentary.
Some enrage, some delight, some cause a middle-aged woman to shamefully lust.
Featured are Chris Matthews of spittle fame, Brit Hume of adoration, Sean Hannity and many more.
HERE
~~~~~~~~~~~
"24"-A Newbie Part 1
Consider me a converted "24" freak.
Rush Limbaugh convinced me and after one show, boom, I'm addicted.
Although it's not always easy in that I missed all the prior seasons and still don't understand a lead character dying then coming back to life.
For now, click in to this TV review of the series. If not convinced to tune in, perhaps you'll be amused.
HERE
~~~~~~~~~~~
Fox's "24"-A Newbie-Part 2
Here's the second "Newbie" review of Fox's "24" and I'm still new at it.
Check in for my own uninformed guess as to who is the secret mole in the government. You shall be shocked.
HERE
~~~~~~~~~~~
The NAACP Image Awards
It's a TV Review of Fox's "NAACP Image Awards" from the prospect of a middle-aged white woman.
The show was boring and could have been all white. Which is NOT a compliment.
HERE
~~~~~~~~~~~
Academy Awards 2006-Fashion
Forget the winners. Forget the awful song.
Here's a fashion critique of this year's Academy Awards.
With, heh, some totally invented fashion categories.
Some pics, links to all fashion referred to in commentary.
HERE
~~~~~~~~~~~
Review-"Wife Swap"
Imagine swapping places with another woman, living with her family for ten days, ascertaining her family's problems and issues, then enacting new rules that will make their life more fulfilling.
Every week ABC features just such a scenario on "Wife Swap". Here's a review on the series and know now the title is not as dirty as it sounds.
HERE
~~~~~~~~~~~
American Inventor
Here's a TV review on the first showing of ABC's new reality series "American Inventor".
With, as a public service, a description of my own fine invention and suggestions for inventions needed.
Heh.
HERE
~~~~~~~~~~~
More TV Reviews HERE
===============

From a Cake Mix-It's Delicious
Here's a cooking post and two good dessert "recipes". Okay, so one is home-made from a packaged cake mix but it's a good finished product. And a Pilsbury dessert product way better than I could ever make from scratch.
Also, time for a Katrina update. Now New Orleans Mayor Ray Naginhead endorses corrupt LA congress critter Jefferson. Also, people aren't returning to New Orleans and I must wonder why. Maybe they're sick of the constant corruption too?
HERE
~~~~~~~~~~~~~~~~
Meatloaf With Peaches?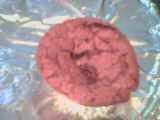 A short Cooking post here with two interesting recipes, the problems, mistakes and corrections with same.
Meatloaf with peaches? Well it almost works. And Mrs. Fields' brownies, they are good but there were problems.
HERE
~~~~~~~~~~~~~~~~
Chocolate Lover's Cake
Haven't had a Cooking post in a while and yet even in the heat of summer I keep right on cooking.
This post we have, I am not making this up, ZIPLOC OMELETS.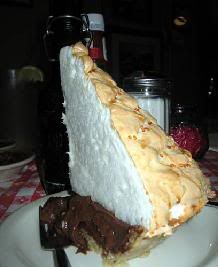 Also, the meringue on this pie will amaze, possibly choke you.
Finally, a recipe called "Chocolate Lovers Cake" and indeed it is.
HERE
~~~~~~~~~~~~~~~~
Butterfinger Cookies
Here's a recipe for great cookies made from the candy bar Butterfingers.
Right here in this Cooking post. Also with instructions on making an omelet and some cake tidbits..
HERE
~~~~~~~~~~~~~~~~
Awful Hot Chocolate
It's time for a Cooking post. Today we have information on that most important meal of the day: breakfast.

And, for laughs, a recipe for truly AWFUL hot chocolate. But click in. Your mileage may vary.
HERE
~~~~~~~~~~~~~~~~
KATRINA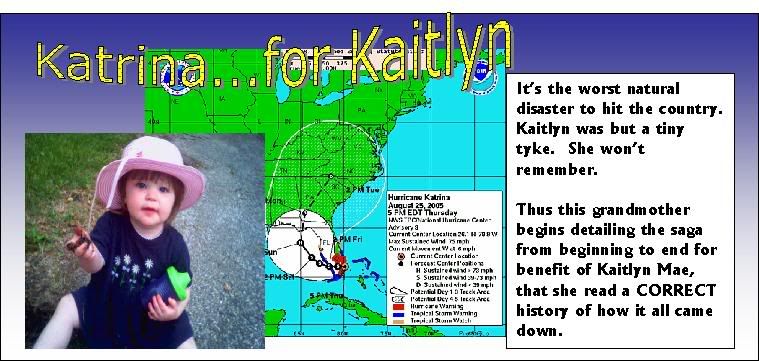 It's time to catch up on the Katrina aftermath.
How about that lovely couple who sold the donated house given to them by a kind church? Sold it at a handsome profit, in fact.
They defend themselves by standing on the strict technality of law but those of us with common sense out here in la-la land know greed and ungraciousness when we see it.
Also, suicide notes leads to dismembered body as violence escalates in New Orleans' French quarter. Some serious shooting going on there as well.
HERE
~~~~~~~
Where Are the People?
Also, time for a Katrina update. Now New Orleans Mayor Ray Naginhead endorses corrupt LA congress critter Jefferson. Also, people aren't returning to New Orleans and I must wonder why. Maybe they're sick of the constant corruption too?
HERE
~~~~~~~
June 2006 and Things Not Going Well In New Orleans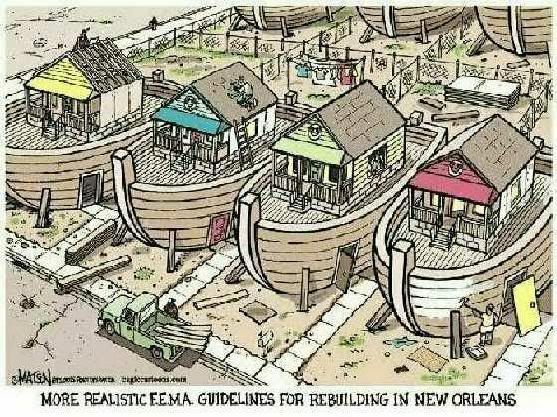 Time for a quick "Katrina for Kaitlyn" update.
Because things aren't going well for New Orleans. Here, eight months later, there's still rats and debris. Not to mention having to call out the National Guard for all the murders.
June 2006 Katrina Aftermath Update
Time to give a thorough Katrina update for Kaitlyn, that history not be re-written.
The results of the New Orleans' mayoral race are in!
It's not good.
Also, Louisiana learns a new language and it ain't french.
An interesting update on NO demographics and a Katrina cartoon for giggles and grins.
HERE
~~~~~~~
Here's a Katrina for Kaitlyn post and for six months now we've been recording history that young Kaitlyn Mae know the truth about the greatest natural disaster in American history.
We have the lying NY Times waxing poetic on a FAKE Katrina victim.
And how about that Red Cross fraud?
Finally, the greatest fraud attempt at fraud: New Orleans' politicos want to set up out-of-state voting places for Katrina evacuees.
Evacuees that these same politicos left for dead as municipal school buses sat unused.
Yeah, that's the ticket.
HERE
~~~~~~~~~~
Lots of new news on the hurricane Katrina documentation for beloved Kaitlyn Mae that she know the truth.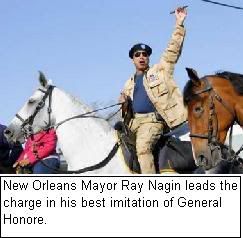 First, the AP flap, the lies, overtopping versus breaching, the AP retraction after they did their damage.
Also, check this out. For Louisiana Governor has a plan for rebuilding. There's nothing like not buying mandatory flood insurance to have the taxpayers bail out their stupid selves.
And you GOT to see this picture of Mayor Naginhead doing his best imitation of General Honore. Heh.
HERE
~~~~~~~~~~
In the last Katrina for Kaitlyn post we noted the new rules for those who lost their homes during that hurricane.
But what about those displaced from the low cost government housing?
Seems FEMA purchased a bunch of mobile homes. Seems no one wants to build them in a flood plain. Seems Louisiana residents don't want large tracts of trailer homes in their neighborhood.
And it all is, of course, Bush's fault.
HERE
~~~~~~~~~~
Time for a Katrina for Kaitlyn, the ongoing documentation that began the weekend Hurricane Katrina hit and continues through to the aftermath. All that Kaitlyn know what REALLY happened to New Orleans.
This week, Grandmother gets fooled, crazy Mayor Nagin.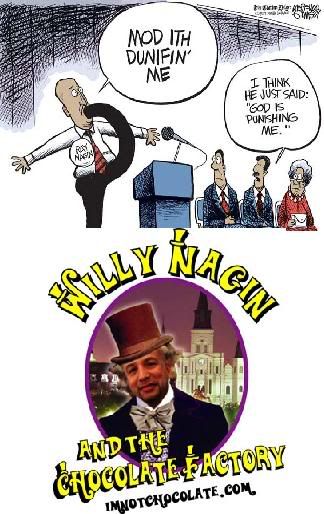 HERE
~~~~~~~~~~
Still documenting the aftermath of Hurricane Katrina for little Kaitlyn Mae.
This week there's info on the Senate hearings with FEMA's Michael Brown on the hotseat.
Also, LA official email turns DOWN federal assistance to evacuate nursing homes TWO full days before the storm hit!
HERE
First Katrina/Kaitlyn post-the Beginning-9/6/05
~~~~~~~~~~